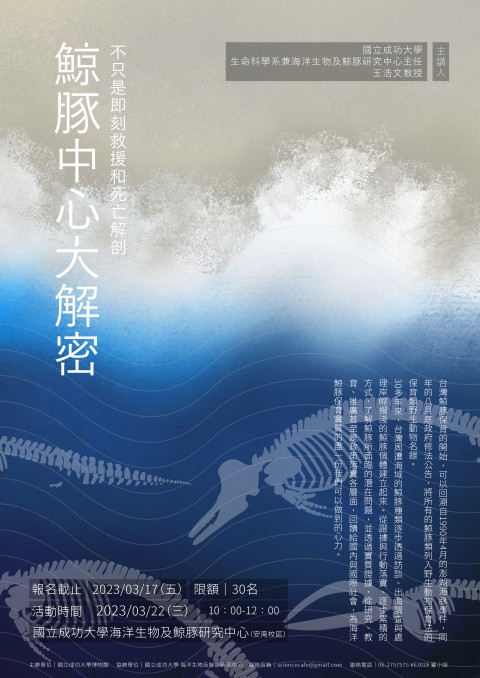 Speech title | Not Only Rescue and Dissection: Reveal the Facts of the Cetacean Research Center
Speaker | Haoven Wang, the Professor of NCKU Department of Life Sciences and the Director of the Marine Biology and Cetacean Research Center
Time | 2023/03/22 (Wed.), 10:00-12:00
Location | The Marine Biology and Cetacean Research Center (An-Nan Campus, NCKU)
❗ Attention ❗ Because the location is remote, the attendees are required to take the shuttle bus together to get the research center. Please show up at 9:20 am in front of the NCKU museum for the shuttle bus. If there is any inconvenience, please contact the organizer in advance.
Sign up here |
https://forms.gle/9vi9rxn6nh3b4xrg8
* The activity is all FREE and welcome to attend.
* The quota is limited to 30. The admission notification will be mailed by the order of signing up. The signing up page will be closed while 30 attendees are accepted.
* Deadline of signing up: 2023/03/17 (Fri.), 12:00 pm.
Information |
The global awoken awareness about cetacean conservation could be traced back to the 1980s. In 1972, the "Marine Mammal Protection Act" was implemented in the USA. And the first global action was the "Convention on Prohibition against Commercial Whaling" by the International Whaling Commission in 1982.
The cetacean conservation in Taiwan was started in April, 1990, for the case of the dolphins in Peng-hu. The official law amendment in August of the same year listed all the cetacean animals into the Schedule of Protected Species for the Wildlife Conservation Act. In the 30 years, the cetacean species showing up around Taiwan were listed up by interviews, the field research and the rescues of stranded cases. Also, the potential issues of cetaceans around Taiwan were found out with the accumulated proofs and actions by the alive cetacean rescues and the dead cetacean dissections. The research center has dedicated all the efforts to the domestic and international marine cetacean conservation through the perspectives of research, education, promotion and even policy implementation.
The activity website
https://museum.ncku.edu.tw/index.php?inter=apply&act=detail&id=34
More about Haoven Wang, the Professor of NCKU Department of Life Sciences and the Director of the Marine Biology and Cetacean Research Center
https://www.scopus.com/authid/detail.uri?authorId=14319472300