National Cheng Kung University is holding the "NCKU Overseas Week" to enclose the fruitful results of regional joint research projects, international talent cultivation, and academia-industry collaborations through research presentations and online forums respectively in Taiwan, Malaysia, Thailand, and Vietnam from November 16th to 20th. Along with its strategic partners, namely University of Malaya (UM), Mahidol University (MU), and University of Medicine and Pharmacy at Ho Chi Minh City (UMP), NCKU aims to tackle regional challenges and to find new solutions for dengue fever, biomass energy, prevention and treatment of serious diseases, energy storage systems, sustainable energy and materials, digital dentistry, pregnancy health care, wound care, and water security.NCKU President Huey-Jen Su in her opening message pointed out the critical supports from local partners for a successful cross-border education and pledged for collective efforts to make the betterment of our common land. NCKU Executive Vice President Ming-Derg Lai said that NCKU humbly hopes to elaborate the values of scientific findings through their utilization in solving community challenges, to conduct the spirit of higher education through guiding students to ponder their future mission when participating in these projects, and to benefit the people in our communities through team work with our domestic and international partners.

Following the grand opening, "The Impact of the COVID-19 Pandemic on Higher Education" Forum chaired by Executive Vice President Lai is launched to boost communication among international higher education institutes regarding the challenges faced and the strategies taken by global higher education leaders in the face of the pandemic. The forum panelists include UMP President Tran Diep Tuan of Board of Trustees, UM Vice-Chancellor Mohd Hamdi Bin Abd Shukor, MU Vice President Thatchavee Leelawat for Information Technology and Kanchaburi Campus, and NCKU Vice President Hsiao-Wen Wang of International Affairs.

On November 16th and 17th, with the problem-solving strategy toward global issues, eight international research teams comprised of 55 experts from four countries release their latest findings. From November 18th to 20th, serial online forums are expected to share the valuable experience about how to co-exist with COVID-19, how to maintain water security when our climate is drastically changing, and how to create and stimulate academic-industry collaborations.

In spite of the pandemic, NCKU is still able to strengthen the relationship with local partners via the NCKU Overseas Hubs established in recent years in Malaysia, Thailand, and Vietnam. In addition to the establishment of overseas hubs, NCKU also deepens its long-term collaborations with nations in Southeast Asia and South Asia through actively acting as the International Secretariat of the SATU Presidents' Forum (Presidents' Forum of Southeast and South Asia and Taiwan Universities).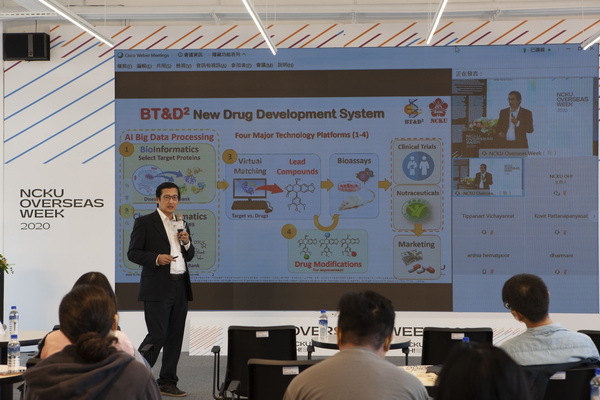 Associate Professor Hsien-Tai Chiu explained the SOP of the new drug development plan.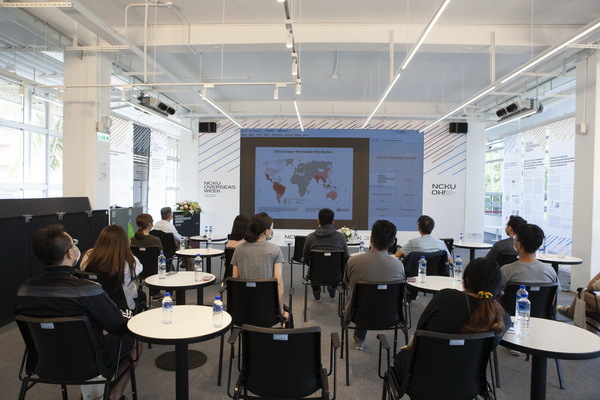 Prof. Dr. Kovit Pattanapanyasat from Mahidol University in Thailand explained the joint research results with Prof. Guey-Chuen Perng from National Cheng Kung University online.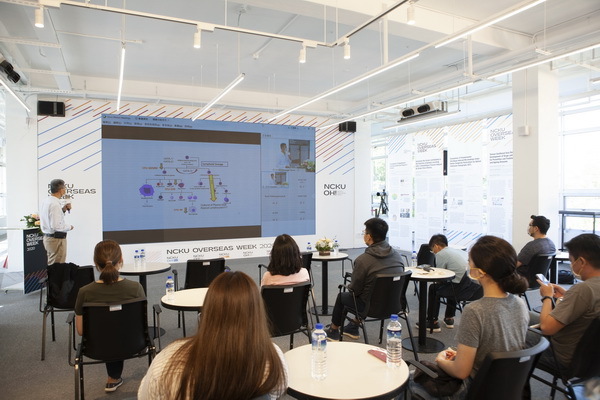 Professor Perng explained the effect of dengue fever on human blood.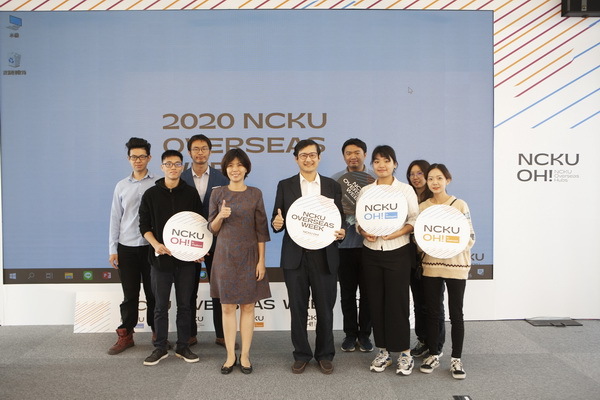 Vice President for International Affairs, Prof. Sophie Wang and Prof. Guey-Chuen Perng took a photo with the students.