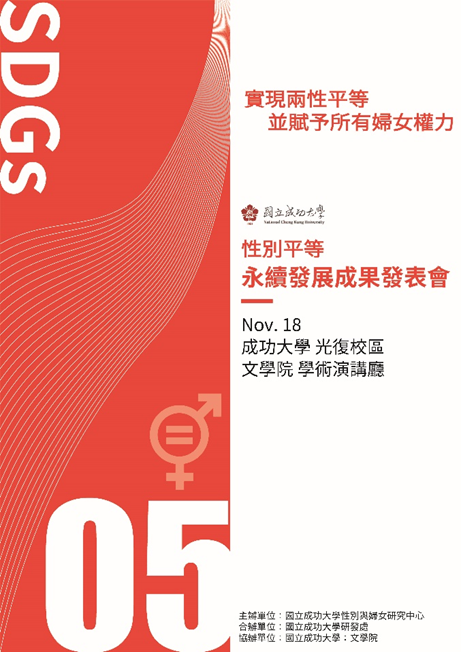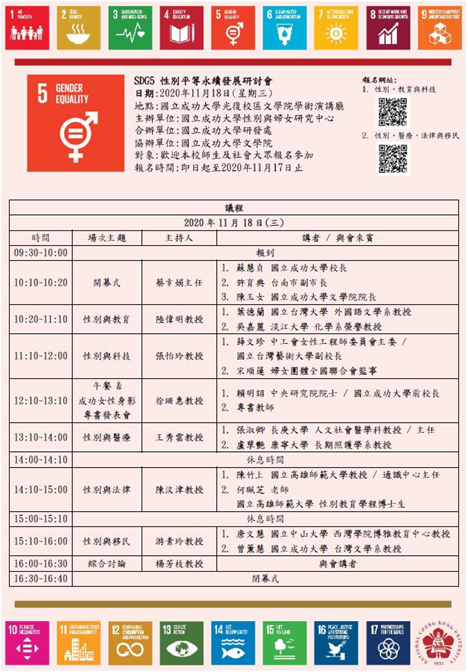 To respond to the United Nations Sustainable Development Goals (SDGs) and improve the effectiveness of gender equality implementation, NCKU Center for Gender & Women Studies held the Seminar on Sustainable Development of Gender Equality, inviting experts and scholars to promote awareness of gender equality and lay a good foundation for gender education through the sharing of speeches and case studies. It is expected to create a diversified and gender- equal campus.


On the main theme of "Promoting Gender Equality and Sustainable Development Goals and Strategies", the seminar categorized in five topics to exchange relevant experience and influence on current policies of gender equality education. In addition, a book launch of "Successful Women Figures" was held to celebrate the success of the Footprints of Great Female Faculty in Taiwanese Higher Education Efforts.


President Dr. Huey-Jen Su pointed out that SDG 5 not only calls for gender equality as a basic human right, but also is the core element of the sustainable development of the United Nations. In fact, every SDG goal is related to gender equality. A sustainable future that benefits all can only be achieved by ensuring that the female population has the rights to access to all SDG goals.


Finally, Tsai Hsing-chuan, Director of NCKU Center of Gender& Women Studies, and Professor Su-lin Yu, the convener of the seminar, gave their appreciations to the participants for their efforts and contributions to promote gender equality education . It is hoped that through multi-party discussions, consensus will be made to achieve sustainable development goals and the vision of gender equality will be eventually realized.


維護單位: 新聞中心
更新日期: 2020-12-30