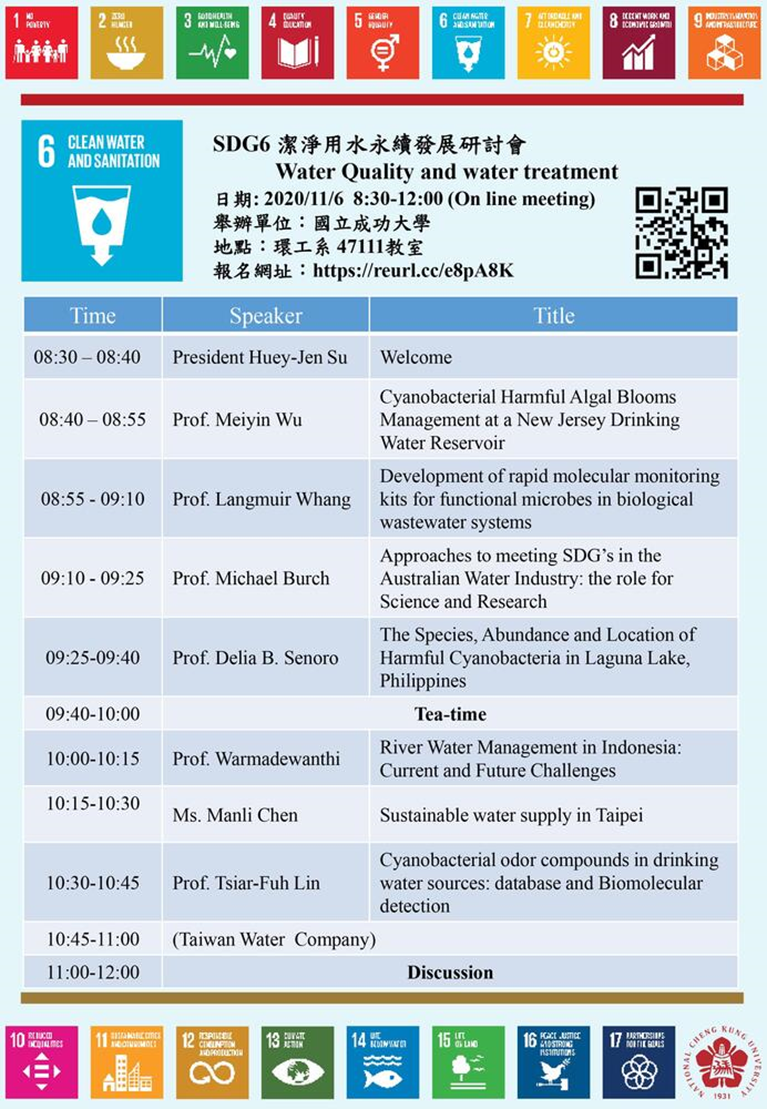 In response to UN SDG6- Clean Water and Sanitation , NCKU held a webinar on November 6. Together with scholars from all over the world, faculties of the Department of Environmental Engineering and the Office of Research and Development discussed topics regarding clean water and found possible solutions. The webinar mainly focused on the issue of "musty smell" in drinking water, including the causes of soil musty smell in water and the improvement of water quality testing technology.

The main culprit for the musty smell in drinking water is Cyanobacteria commonly found in various water bodies. This substance is not easy to remove, and the problem of odor existing in the water continues to affect the quality of livelihood.

Cyanobacteria is one kind of prokaryotes that have been existing on Earth since billions of years ago. It can live in water in many forms and can easily be found in reservoirs. Geosmin and 2-MIB, substances produced after the metabolism of Cyanobacteria, are the reasons for the musty smell of drinking water.

Water users are very sensitive to substances with musty smell, and will therefore be doubtful about the safety and quality of water. However, the chemical structure of geosmin and 2-MIB makes them difficult to be removed by general water purification procedures, and the related issues are getting attention of experts around the world.

Prof. Tsiar-Fuh Lin has been devoted to the research of odor in water for a long time. His research team has developed a new rapid technology (qPCR) to improve the efficiency of water quality detection and promote the research of water quality. Considering the time consuming of research literature in the past, the team integrated domestic and foreign literature for the last three decades and established a global water quality research record database website (http://cyanogmexp.ncku.edu.tw/) based on the data.

The site's interactive map shows regional differences about the occurrence of musty water around the world. For example, geosmin is the major source of musty substances in water bodies in Europe and America, while water bodies in Asia are mostly affected by 2-MIB. Based on the map function, in addition to visualizing the distribution of soil and musty substances, the website also allows users to track the research literature of water quality records regionally.

Established in 2013, under the the criterion of sustainable development, NCKU Water quality Research Center integrates the research capacity in various fields, promotes cooperation among industry, government and academic, and is dedicated to build a sustainable environment and society in the long run.