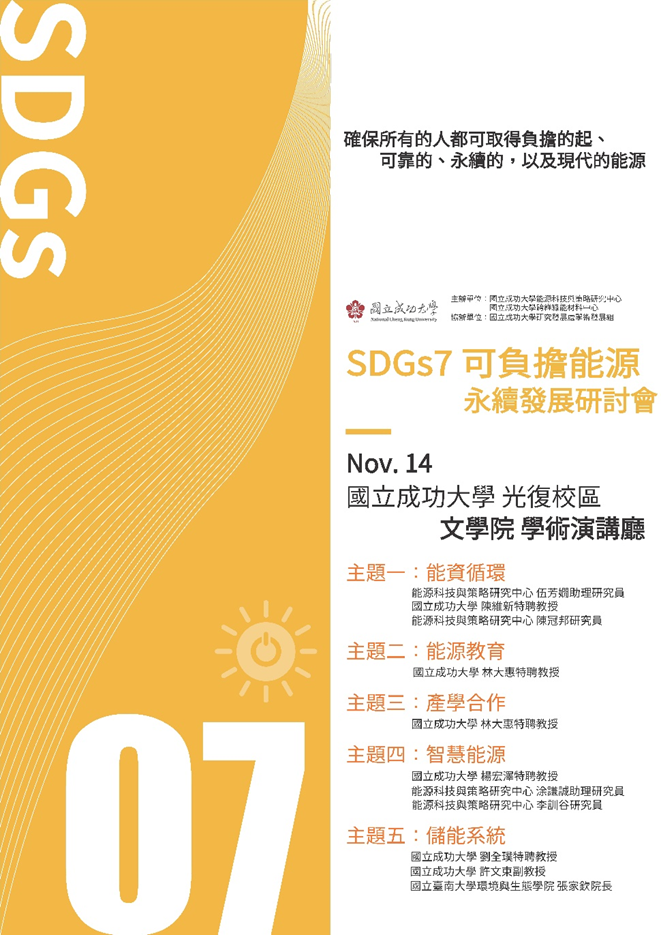 NCKU Office of Research and Development (ORD), Research Center for Energy Technology and Strategy (RCETS) and Hierarchical Green-Energy Materials Research Center (Hi-GEM) co-host "SDG7 Affordable Energy and Clean Energy Seminar'' on November 14. Scholars and experts are invited to share and discuss topics such as energy and resource recycling, energy education, industry-academy cooperation, AI energy and energy storage systems.

In 2015, the United Nations released 17 Sustainable Development Goals (SDGs) to lead the global vision for future action. This year, Times Higher Education (THE) announced the university influence ranking, NCKU ranked second in Asia and 38th in the world. Among the 17 SDGs rankings, 11 are in the world's top 100. With core thinking of sustainable development, NCKU takes SDGs as its development goals, and strives to enhance its global influence to fulfill "NCKU 2030 Vision".

The multi-fuel group of RCETS shared the technologies of multi-fuel energy saving and emission reduction. On the other hand, the circular economy group shared a number of technologies related to recycled materials that have been invested since 2017, which can assist domestic stainless- steel- production- index enterprises in the reuse of furnace slag. In response to national goals of energy policy, Dr. Hong-Tzer Yang, Distinguished Professor of the Department of Electrical Engineering and Vice Director of RCETS, shared some points of view about the technological development of Taiwan's smart grid and the establishment of related infrastructure

Considering the extreme shortage of energy resources in Taiwan, neither single energy source nor a small amount of renewable energy with great variability can be fully relied on. Since 2018, RCETS has been implementing Talent Cultivation for the Integration and Application of Clean Energy Systems sponsored by the Ministry of Education. Energy application featuring diversified and regional characteristics is the trend, which needs to be achieved through systematic integration of education and training. The program associates with SDG 7 to ensure that all people can obtain affordable, reliable, sustainable, and modern energy, emphasizing local practice and industry-academy cooperation.

The team is one of the few in Taiwan with 5 years of experience in Measurement and Operation of Offshore Wind Farms and is equipped with the world's first commercialized floating Light Detection and Ranging (LiDAR) system. To expedite the commercialization of Taiwan's offshore wind power, collaborations have been established with the Energy research Centre of the Netherlands (ECN), to facilitate wind resource and energy measurements and assessments. Since 2018, the team has assisted Taipower Company in the operation and maintenance of offshore marine meteorological observation towers, and gradually established an offshore marine meteorological monitoring data database, and two patents have been obtained.

In terms of AI energy, digital twin technology is one of the top ten strategic technology trends. As the forward-looking infrastructure project is promoted to build up a smart energy-saving building test and verification platform officially, it is the best time to introduce application of this technology.

At the end of the seminar, Professor Liu Chuan-Pu's team from Hi-GEM introduced the nano-silicon powder fabrication technology and related application research in recent years. Associate Professor Hsu Wen-Dong shared the emerging AI Technology-Materials Genome to assist the design of green energy materials. Dr. Chang Chia-Chin, Director of the Li-ion Battery Research and Development Center of Tainan University and Dean of the College of Environmental Sciences and Ecology, gave a speech on "Microgrid Electrochemical Energy Storage Components - Li-ion Battery Technology Development".