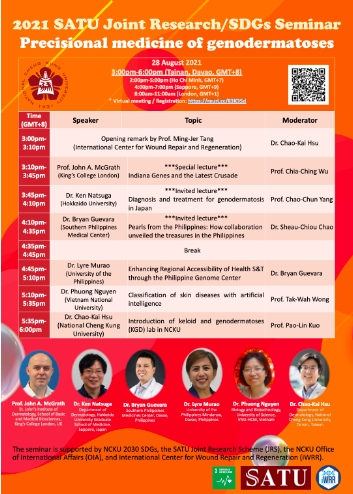 2021 NCKU SDG & SATU JRS Conference-Precisional medicine of genodermatoses, sponsoring by NCKU SDGs 2030 Program, SATU Joint Research Scheme (JRS) Program and NCKU International Center for Wound Repair and Regeneration was held on August 28th, 2021. Scholars who are committed to the clinical work and research of genodermatoses are invited to share their achievements through online conference.

A total of 73 researchers and clinical care professionals from seven countries participated in the conference, and six speakers were invited. The opening lecture "Indiana Genes and the Latest crusade", referred to the up-to-date gene research and clinical treatment results, was given by John A McGrath, an academician of King's College London, UK, who is the world's leading researcher in genodermatoses.

Dr. Ken Natsuga from Hokkaido University in Japan and Dr. Bryan Guevara from Philippines gave lectures titled "Diagnosis and treatment forgenodermatosis in Japan '' and "Pearls from the Philippines. Both share the experiences in clinical diagnosis and treatment of hereditary skin diseases such as genodermatoses in their countries.
Dr. Lyre from the Philippines and Dr. Phuong from Vietnam are young scholars who cooperated with the Taiwan Medical Team in the 2021 SATU JRS. Dr. Lyre gave a lecture titled "Enhancing Regional Accessibility of Health S&T through the Philippine Genome Center". Taking the examples of the Center's recent work, the lecture demonstrated methods of promoting and establishing genetic research in Philippines. "Classification of skin diseases with artificial intelligence" by Dr. Phuong focused on how to use Al as a tool in the classification of skin diseases to establish a more efficient medical treatment.
The last speaker, Dr. Chao-Kai Hsu, is the soul of the team of EB in NCKU. His topic "Introduction of keloid and genodermatoses (KGD) lab in NCKU", indicated the research focus of the team, its implementation in recent years, and the future plans. Dr. Hsu also shared the results of team research and clinical breakthroughs with clinical professions and researchers. The involvement is wide-ranging and has stimulated many echoes and discussions.