NCKU & ICDF Hold Training Program on Disaster Prevention Technology & Management for Allied Countries
SDG17
NCKU & ICDF Hold Training Program on Disaster Prevention Technology & Management for Allied Countries
To elevate the disaster prevention and mitigation for allied countries, NCKU, ICDF, along with other related sponsors held The 2022 Advanced Training Program on Disaster Prevention Technology and Management from August 15th, 2022 for three weeks. This program mainly aims at strengthening international relations, exchanging disaster- mitigation techniques, and achieving disaster-prevention visions.

Eight trainees participating in this program are the representatives of various official departments from Saint Lucia, Paraguay, Guatemala, and Swatini. It is expected that the international visions will be strengthened and the disaster- prevention capacities will be improved throughout the experience-sharings of different country participants in this program. In addition, to improve the development of agricultural technology and the quality of medical care in partner countries, agricultural technology cooperation agreement has been signed with aforementioned countries and the medical personnel training program has also been promoted.

The three weeks disaster prevention program enabled the trainees to better understand the disaster prevention and management from various perspectives. Meanwhile, physical visits to different institutions allowed the trainees to integrate their own national experience, took account of multi-objective solutions, and achieved the purpose of disaster prevention and governance.

In recent years, heavy rainfall or landslides caused by extreme weather often leads to massive socio-economic losses. Responding to this issue, NCKU launched and planned interdisciplinary programs in Natural Disaster Mitigation as well as Master degree of Management. In addition to training disaster risk management resilience, it also advocates school-wide English courses to cultivate students' international outlook , to enhance foreign language skills, and to expand the global perspectives.

On the other hand, since its establishment, ICDF has been actively promoting international cooperation and development, assisting the economic development, providing technical and human training resources to allied or developing countries, and enhancing relations with foreign countries.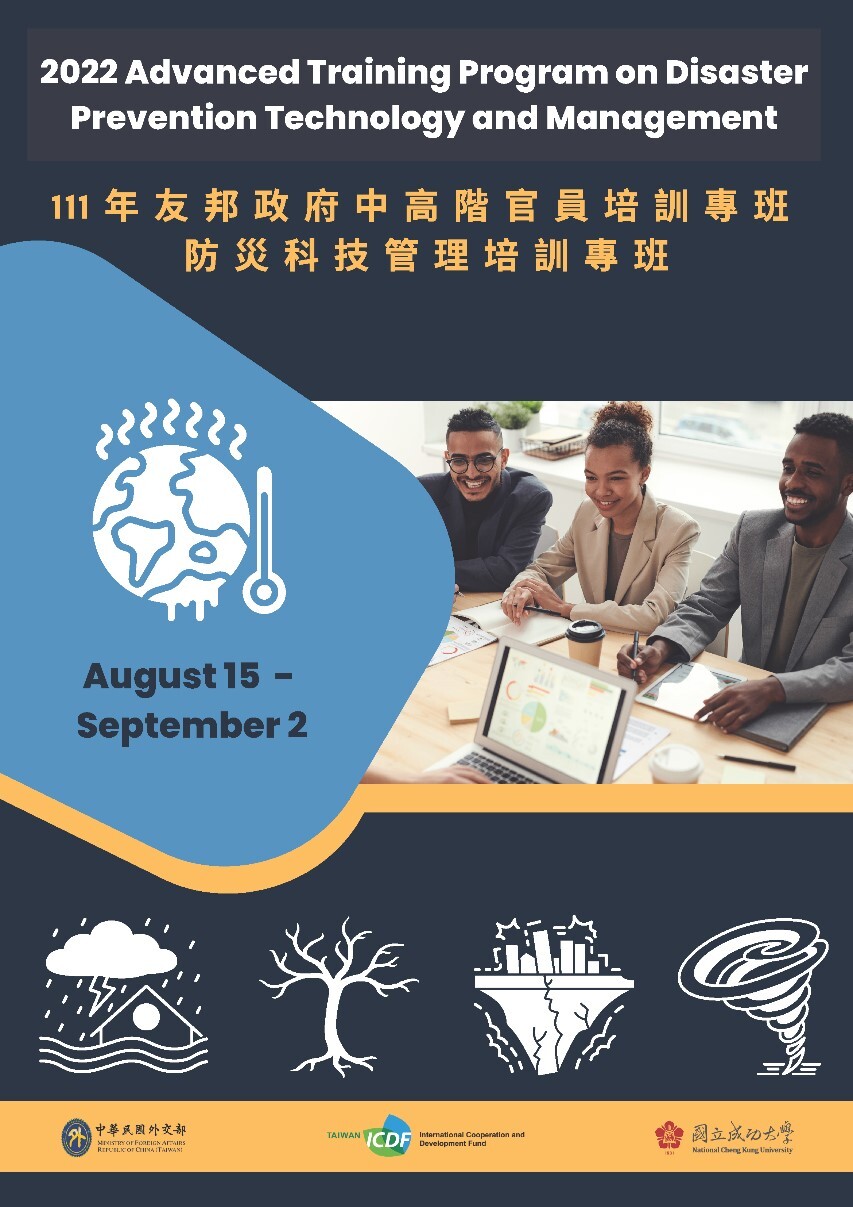 NCKU and ICDF hold 2022 Advanced Training Program on Disaster Prevention Technology and Management to elevate Disaster Prevention knowledge for Allied Countries