Since its inception in 2016, the U.S. Department of State's Critical Language Scholarship Program (CLS) has attracted many US students to learn Mandarin in Taiwan. Due to the impacts of epidemics, remote courses were given in the first two years. This year, the eight weeks of physical classes finally resumed. The opening ceremony was held at the Zhenzhi Lecture Hall of NCKU on July 7th. 23 awardees are looking forward to experiencing Taiwanese culture as soon as possible.

According to Dr. Julius Tsai, Public Affairs Officer at AIT Kaohsiung Branch Office, launched by the U.S. Department of State's in 2006, CLS is the program designed for encouraging US college students to learn foreign languages during summer vocation. Through the US official scholarships, students are encouraged to learn foreign languages, so as to establish friendly relations between countries and to stabilize the friendship between Taiwan and the United States. There must be some challenges in learning new languages. However, rewards will also be accompanied by the hard work– delicious food always awaits ahead.
With eight years of learning experiences in Mandarins, Patrick O'Malley Thompson from University of Massachusetts-Amherst recalled how he started to be fond of Chinese since he first heard Jay Chou's music in high school. After reading Chinese martial arts novels, his learning motivation towards Chinese language had even further strengthened. He said "Because I like the ocean very much, I plan to go to Penghu to spend weekends. I am looking forward to the upcoming trips."

"Being able to study in Taiwan and learn Chinese face-to-face is the most wonderful thing for us under the epidemic." said Zoe Miriam Friese from Tulane University, during her speech delivery on behalf of the participants students present at that time.Due to the severe condition of the epidemic, courses could only be taken online last year. Studying abroad has never been a plan back then. This year, as the dream of studying in Tainan finally comes true, Zoe believes that every student just can't wait to spend a wonderful summer at NCKU. She will seize the opportunity to improve her Chinese and experience a different culture from the United States.

Guo Zhenhui, the director of the Tainan Tourism Bureau, pointed out, ' Tainan is the most ancient city in Taiwan, and "Tainan 400 Years" will be celebrated in 2024.'As a host family with three children, Director Guo expects to take the students out for a walk and taste the authentic Tainan street foods. Through other course arrangements, such as 16-year-old ceremony , it is looking forward to creating exceptional Tainan memories for the students.

According to NCKU Chinese Language Center, which is responsible for designing courses and teaching, CLS students have more than two years of Chinese ability and will complete the equivalent of a full year of Chinese courses in American universities within eight weeks. They are expected to pass the certificated exam to obtain college credits. In response to the epidemic, some course adjustments are made to ensure students will go back to their home town with full satisfaction.

The 2022 CLS recipients come from various states in the United States, studying at outstanding universities such as Harvard University, Columbia University, University of California, and United States Naval Academy. With full support of the U.S. State Department, the Taiwan Ministry of Education, and the Ministry of Foreign Affairs, the project has been launched this year to allow students to study language and experience local lives in Taiwan smoothly.

The epidemic has deterred many host families. For this reason, NCKU visited various levels of schools in Tainan City to explain and recruit Taiwanese families to serve as CLS host families. An interdisciplinary group including 23 NCKU students has finally teamed up to accompany the US students to have a deeper understanding of Taiwan and American culture. At the same time, by taking the first step of language exchange, students are expecting to enhance their international learning while experiencing local cultures.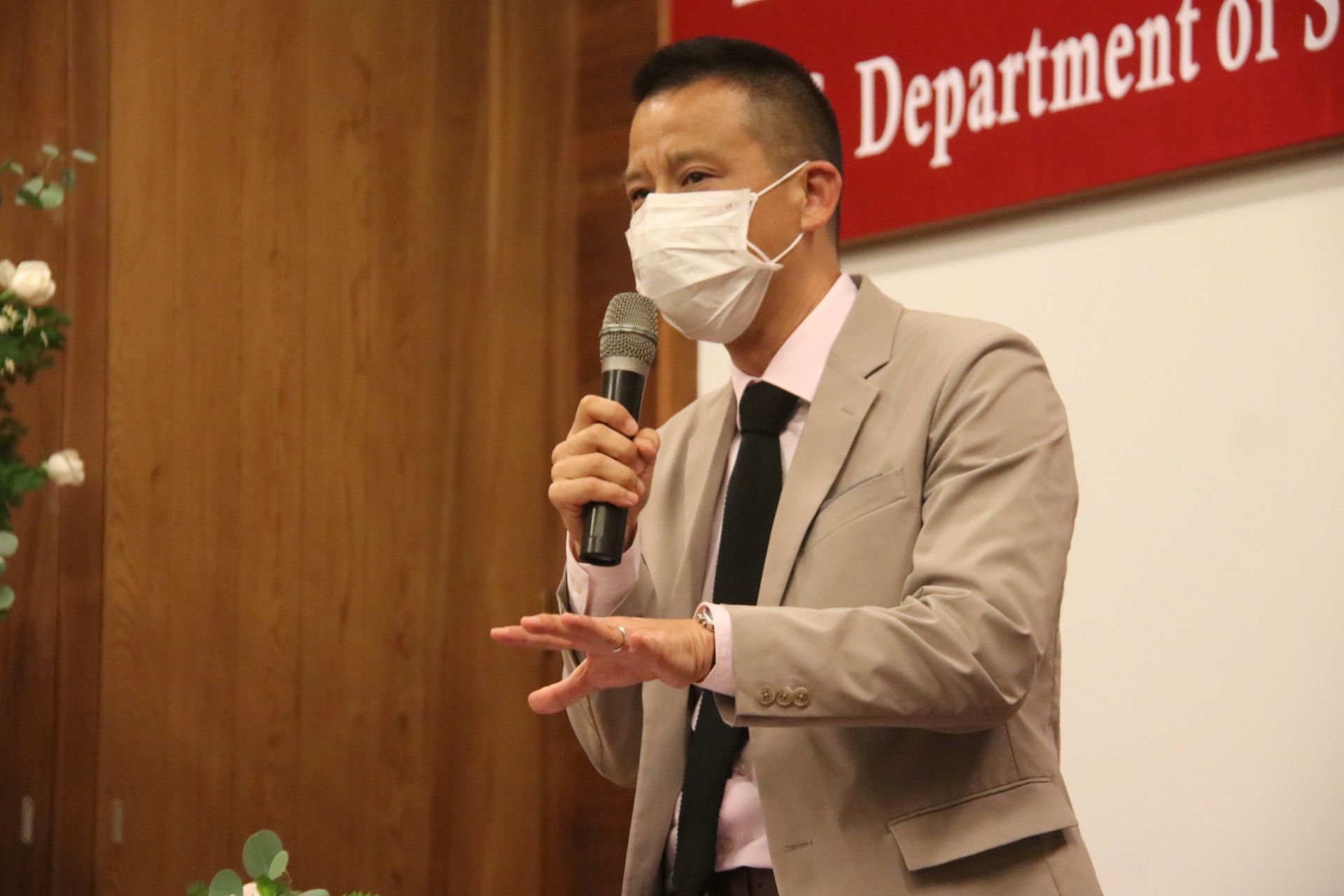 Dr. Tsai, Cultural Press Officer of AIT Kaohsiung, encourages students to learn a new language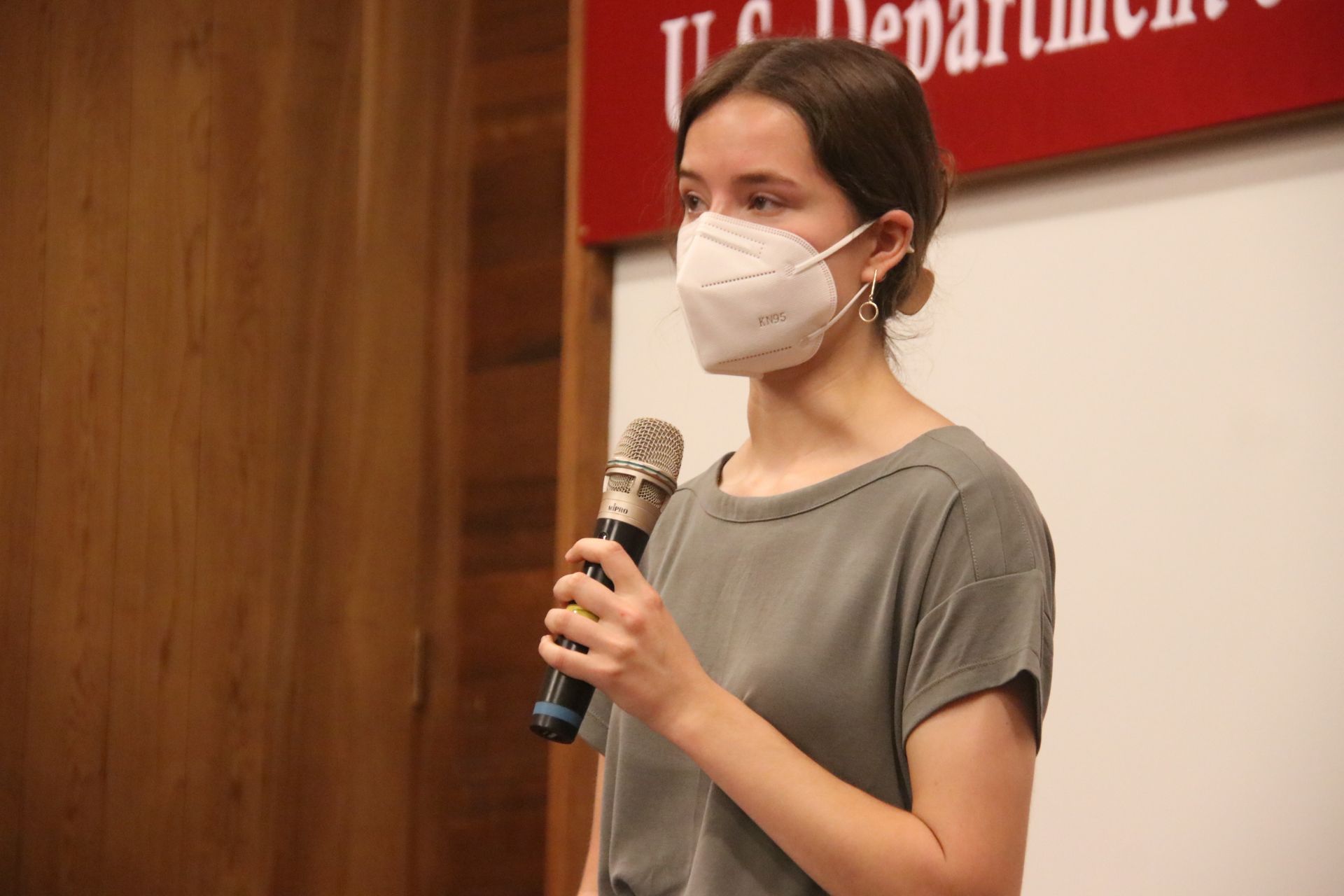 Zoe Miriam Friese from Tulane University delivered a speech on behalf of the students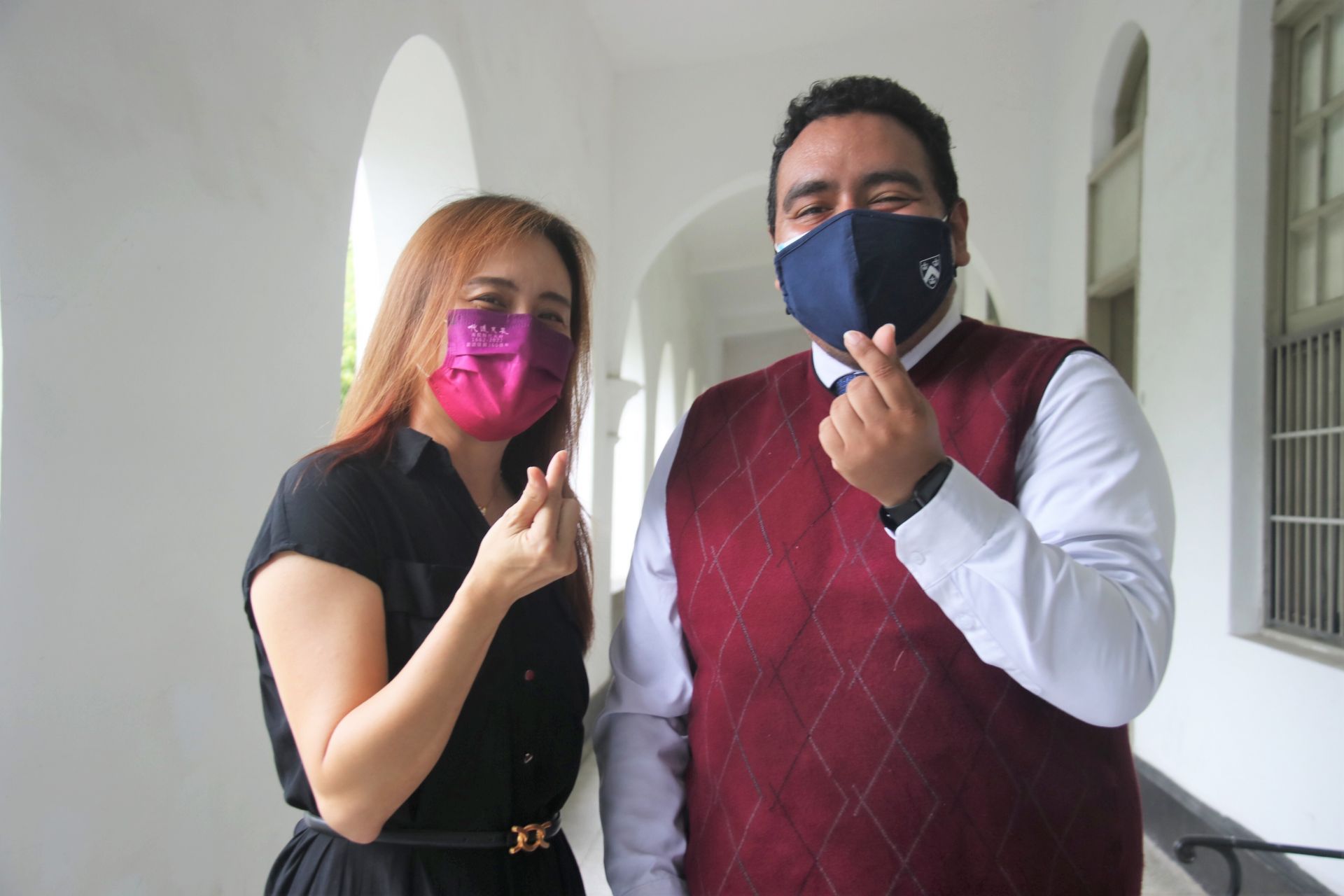 This year, Ms. Guo (left), a host family and the Tainan Tourism and Tourism Bureau, met with students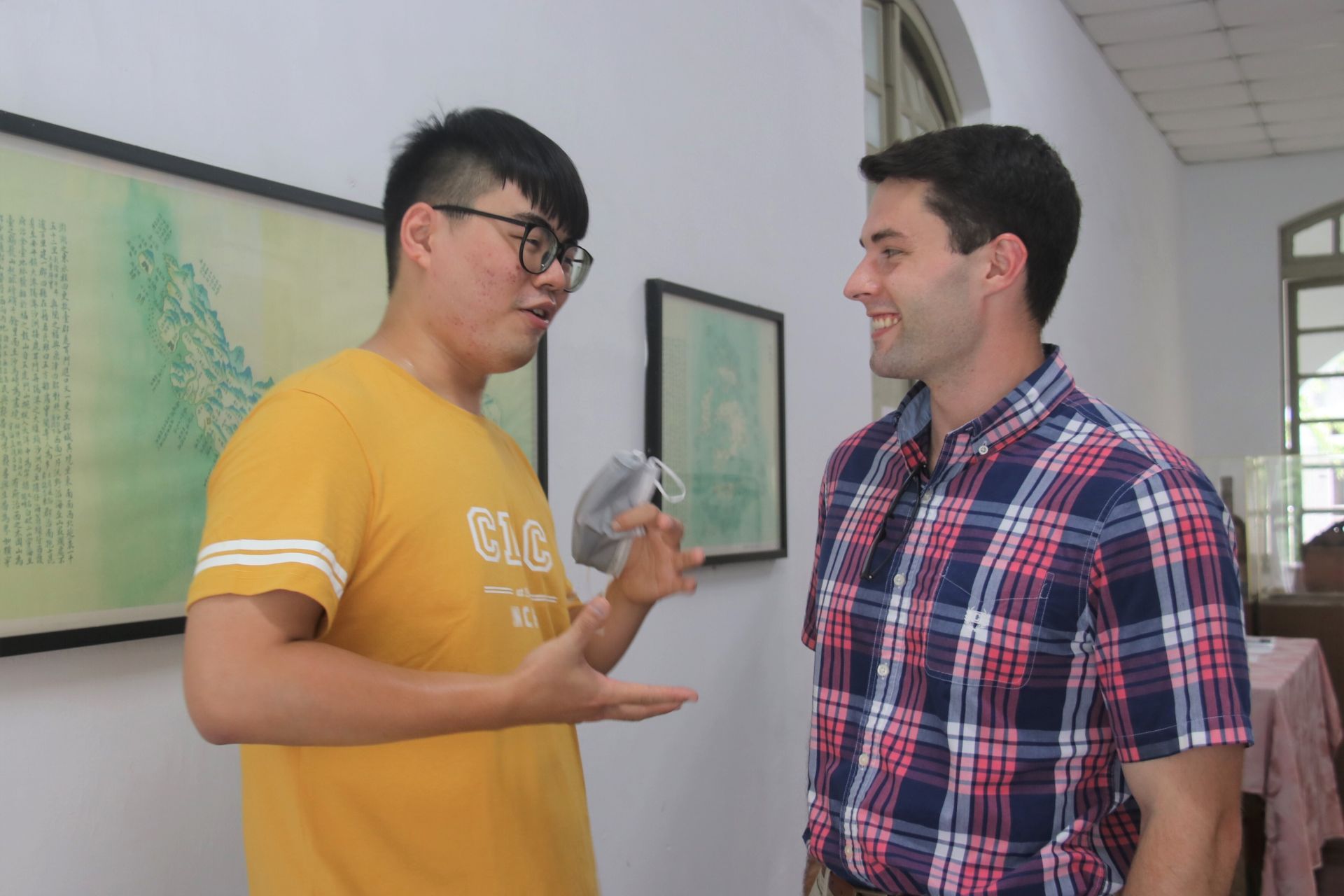 The Chinese Language Center arranges college students as language study partners to overcome the challenges of cultural differences with actions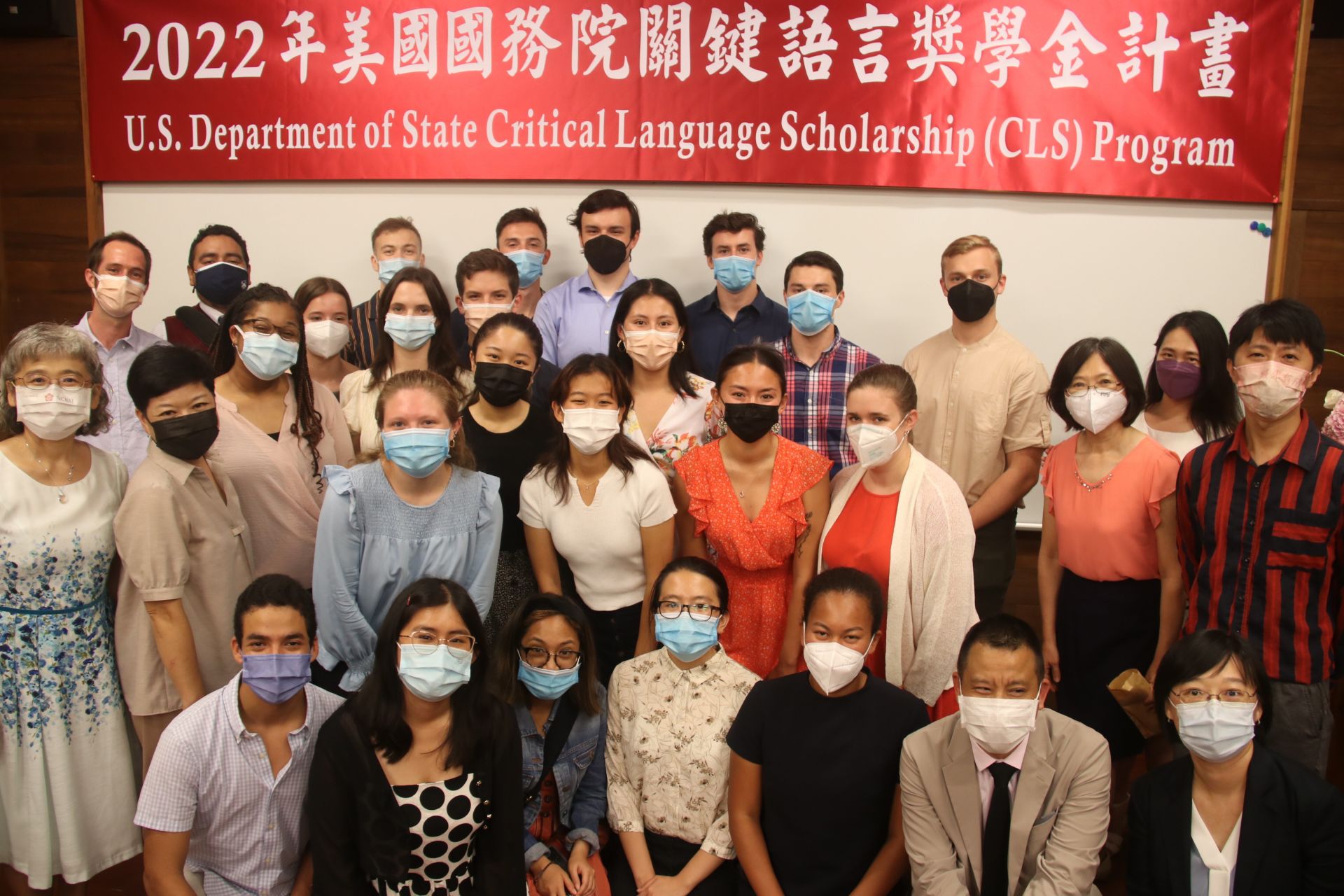 CLS Awardees take Mandarin courses at NCKU