A New Ally in Mandarin Education: NCKU, Xavier University of Louisiana Sign MOU to Support Education
SDG4
A New Ally in Mandarin Education: NCKU, Xavier University of Louisiana Sign MOU to Support Education
Written by Amber Tian. Image credit to News Center.

On October 25th (Taiwan Standard Time), with representatives from the Taipei Economic and Cultural Office in Houston (TECO-Houston) acting as witness, National Cheng Kung University and Xavier University of Louisiana signed a bilateral Memorandum of Understanding. In addition to intercollegiate cooperation, in the future, Mandarin teachers will be sent to teach in the United States, application for the Taiwan Huayu BEST Program scholarships will be set up, online Mandarin courses and tests will be promoted along with Mandarin education and the Taiwan Huayu BEST Program.

NCKU Executive Vice President Fong-Chin Su stated that globalization highlights the importance of students expanding their global perspective, strengthening their international mobility and local vision, and he has great expectations for both sides to achieve fruitful results from international talent exchange. NCKU shall submit a proposal about the collaboration with Xavier University of Louisiana of the Taiwan Huayu BEST Program to the Ministry of Education early next month, supporting the promotion of Mandarin education and Taiwanese culture actively.

"This will be the beginning of a new journey," said Dr. Reynold Verret, President of Xavier University of Louisiana. He anticipates the MOU will accelerate interactions between students at both universities while exchange programs will broaden their horizons to explore different cultures. He also is looking forward to visiting NCKU in person next month. Robert Fu-Wen Lo, Director General of TECO-Houston, said that he was honored to participate in witnessing the signing of the MOU between the two universities. He stated that TECO-Houston will continue to assist the two schools in establishing practical collaboration, and he hopes for them to develop a spirit of partnership, establish a closer relationship, and to push academic and talent exchanges, creating a win-win situation. Dr. Anne McCall, Provost and Senior Vice President for Academic Affairs, expressed her enthusiasm to see what the benefits of the MOU will bring to different levels.

Ms. Patrice Bell (Vice President/Chief of Staff), Dr. Anderson Sunda-Meya (Dean of College of Arts and Sciences), Dr. Kathleen Kennedy (Dean of College of Pharmacy), and Dr. Elizabeth Rousselle (Head of Department of Languages) also attended the signing ceremony along with NCKU officials that attended virtually: Shin-Mei Kao (Dean of College of Liberal Arts), Hsiao-Wen Wang (Vice President of International Affairs), Charles Lin (Associate Vice President of International Affairs), Andrea Mei-Ying Wu (Director of Chinese Language Center). Following the signing of the MOU between the two universities, Huang Wei-che, the mayor of Tainan City of where NCKU is located, also signed a sister-city agreement in an online conference with LaToya Cantrell, the mayor of New Orleans City, where Xavier is located. According to the agreement, both cities will participate in educational, business, and culture-wise cooperations. Thomas Wong, Branch Chief of the AIT's Kaohsiung Branch Office, Director General of TECO-Houston Robert Fu-Wen Lo, Director General on Home Assignment of the Department of North American Affairs, MOFA, Jerry S. Chang, NCKU Executive Vice President Dr. Ching-Chang Lee, and others witnessed the signing virtually.

Cantrell affirmed that the cooperation between NCKU and Xavier will bring valuable opportunities for students in New Orleans City to learn Mandarin and expand their global perspectives. Mayor Huang Wei-che also fully expressed his interest in the future cooperation between the two cities and the two universities. Thomas Wong, Branch Chief of the AIT's Kaohsiung Branch Office, hopes that the partnership between both cities can strengthen the bond between Taiwan and the US, cultivating bilingual education programs via well-known universities and young talent fit for tackling leadership roles, global issues, and climate change.

Founded in 1915, Xavier University of Louisiana is the only Historically Black and Catholic University in the US. Equipped with the College of Arts and Sciences, the College of Professional Sciences, the Williams School of Business, and the College of Nursing. It offers more than 90 majors, 60+ minor courses, and 30+ graduate programs. Xavier University of Louisiana was recognized as the #3 HBCU by U.S. News "Best Colleges" Guide in 2021. Xavier also has many distinguished alumni such as the first African American U.S Secretary Alexis Herman, current U.S Congressman Troy Carter, and current mayor of New Orleans LaToya Cantrell.

For many years, NCKU has actively promoted transnational-college level cooperation and is committed to cultivating and encouraging international talent interactions. NCKU provides support for 3,300 short-term international students annually, has promoted over 78 exchange programs collaborations with partnering schools such as Purdue University and UC Irvine, including fifteen dual-degree programs which have so far cultivated 48 graduates.

With support from the government, NCKU has implemented numerous transnational training programs, including the Critical Language Scholarship Program of the U.S Department of State, the Taiwan Intensive Summer Language Program of the American Councils for International Education (ACIE), Global Ambassador Scholarship Program of the Taiwan-United States Alliance (TUSA), the Taiwan Huayu BEST Program and more. In the last five years, a total of 941 students from the U.S have studied Mandarin and learned about Taiwanese culture at NCKU through the programs mentioned above.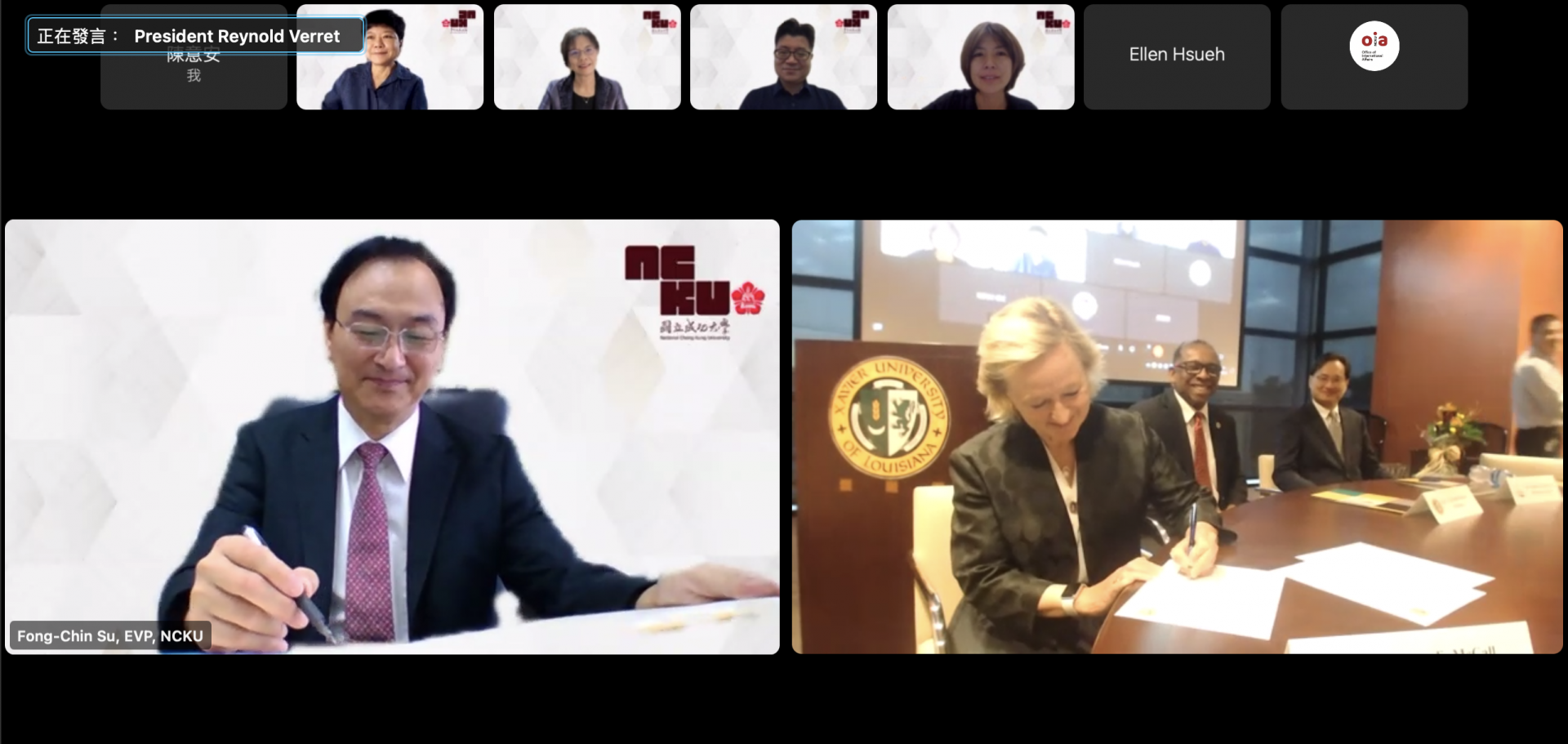 NCKU Executive Vice President Fong-Chin Su, President of Xavier University Dr. C. Reynold Verret, Provost and Senior Vice President for Academic Affairs Dr. Anne McCall, and representatives from the Taipei Economic and Cultural Office in Houston (TECO-Houston) hosted the signing ceremony virtually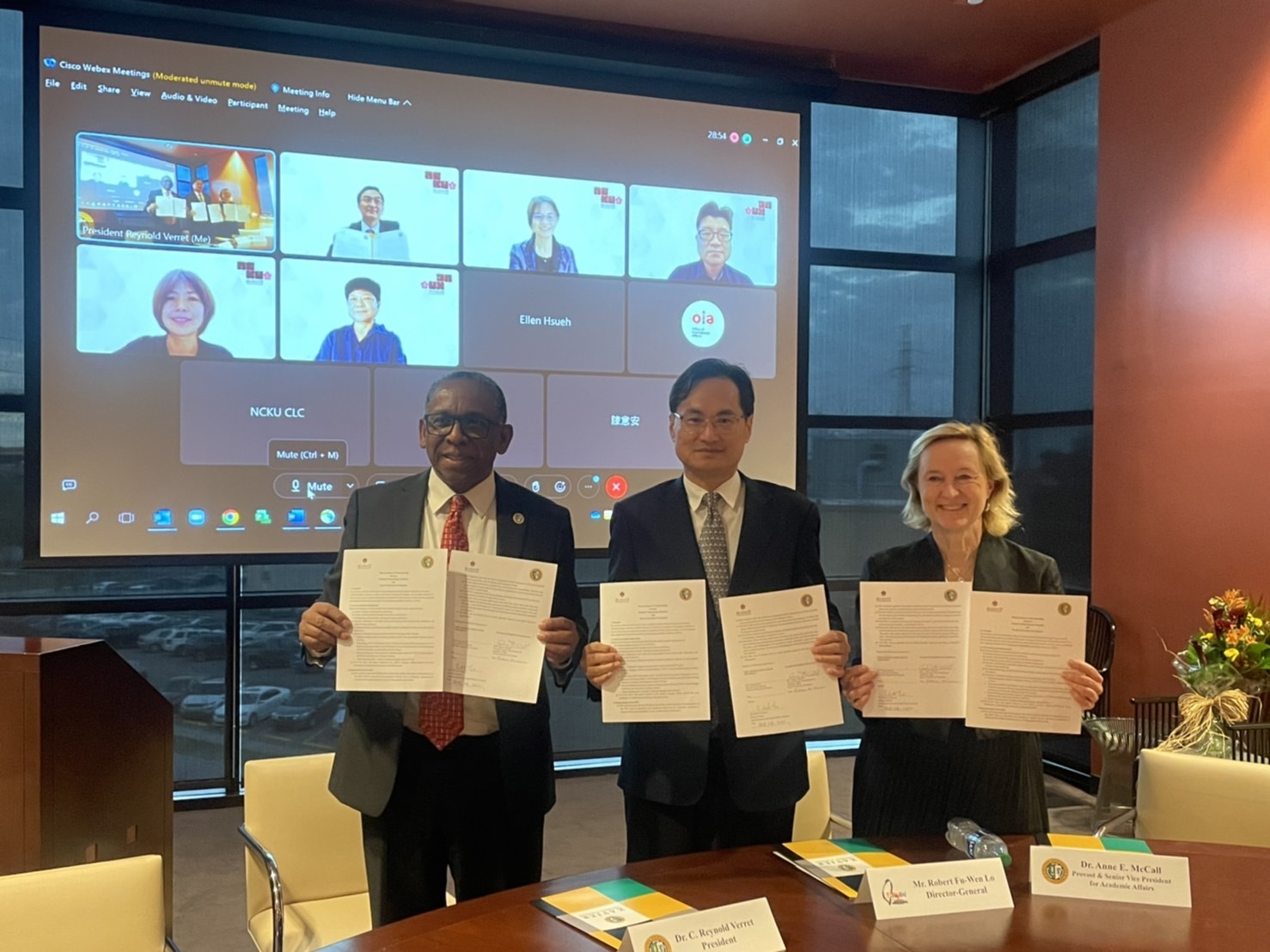 Left to right: Dr. C. Reynold Verret (President of Xavier University of Louisiana), Director General Robert Fu-Wen Lo (TECO-Houston), Dr. Anne McCall (Provost and Senior Vice President for Academic Affairs) signing the MOU at 6 p.m. US local time in on online meetings with NCKU (Photo courtesy of TECO-Houston)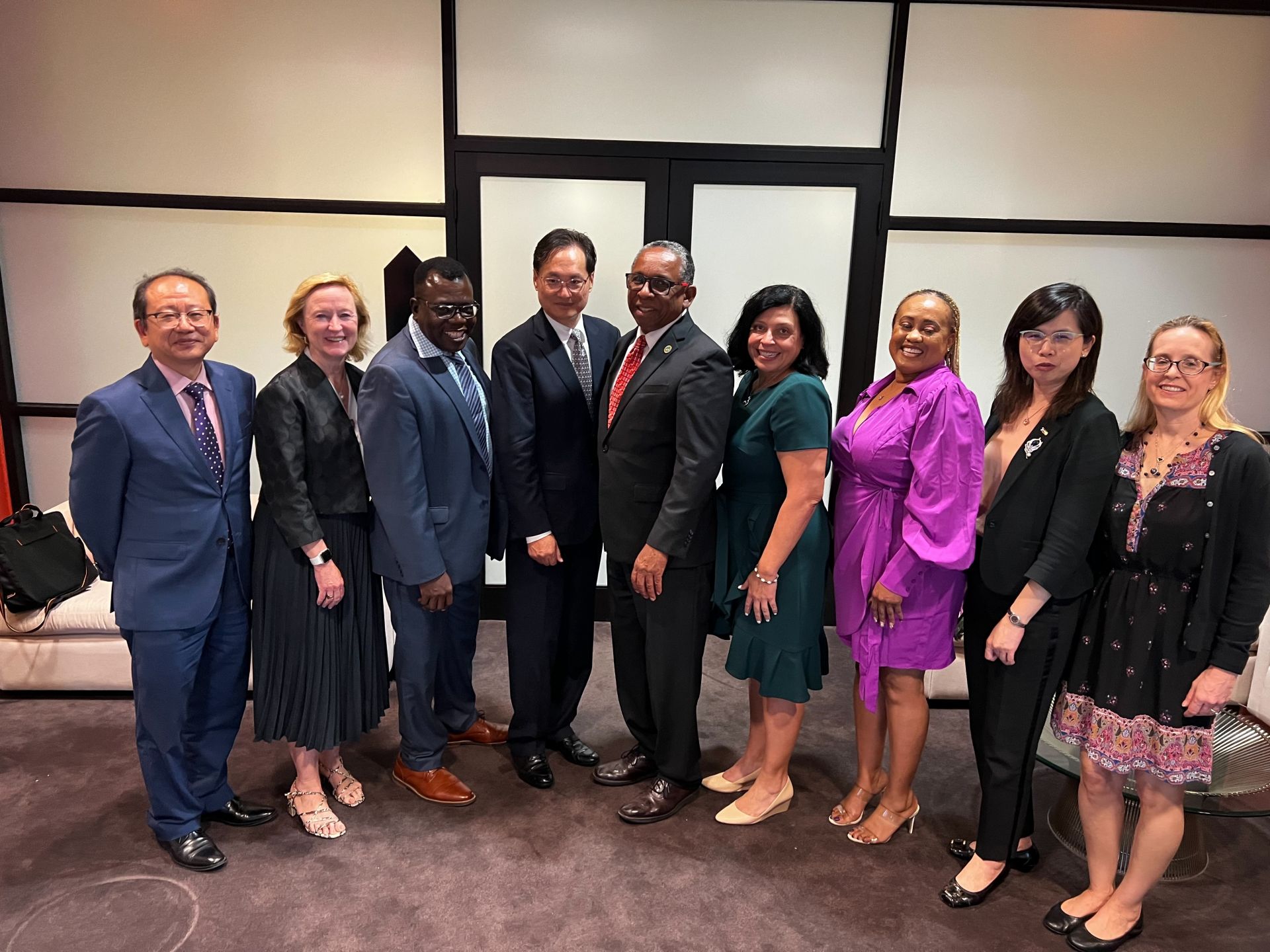 Group photo of distinguished guests at Xavier University of Louisiana. (Photo courtesy of TECO-Houston)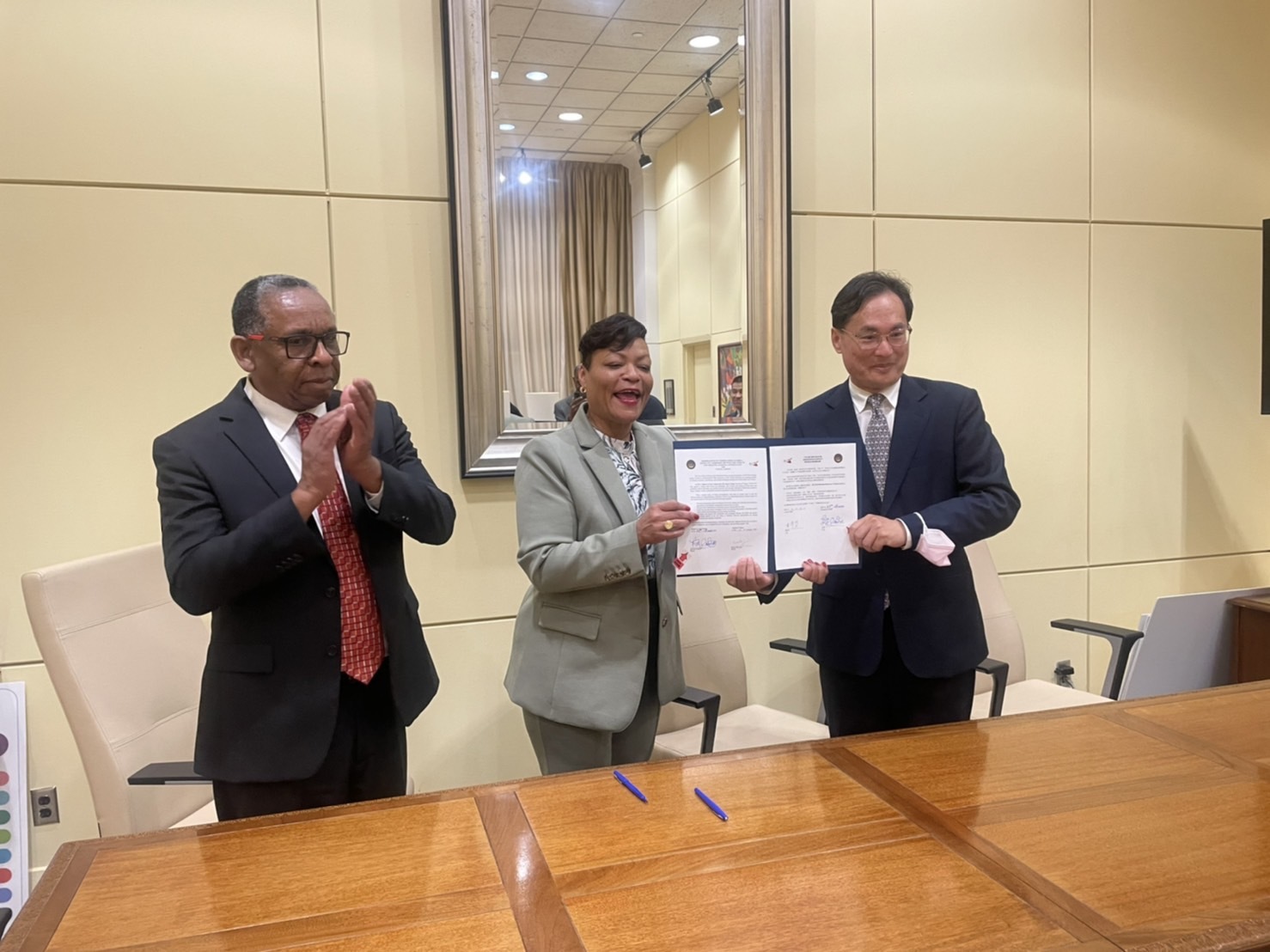 Under the witness of Director General of TECO-Houston Robert Fu-Wen Lo, Tainan City and New Orleans City become sister cities and begin future cooperation (Photo courtesy of New Orleans City)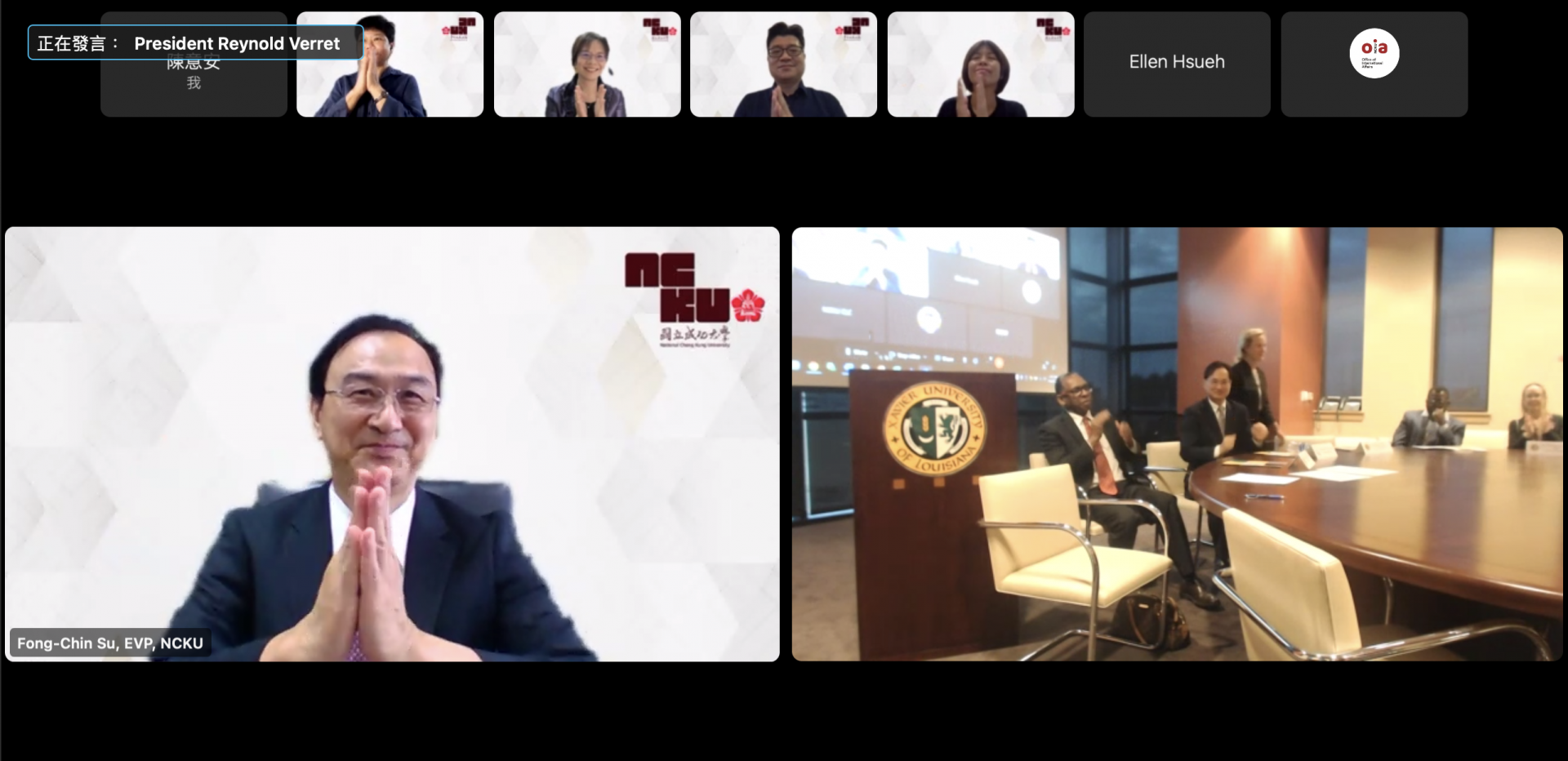 NCKU-Xavier join hands in promoting Mandarin education, securing post-secondary educational exchange between Taiwan and the U.S