FSE And NCKU Hold a Tree-Planting Ceremony to Celebrate Friendship and Deepen Talent Exchange Between The US and Taiwan
SDG4
FSE And NCKU Hold a Tree-Planting Ceremony to Celebrate Friendship and Deepen Talent Exchange Between The US and Taiwan
Written by Lin Yun-Mao. Image credit to News Center.
On October 26, National Cheng Kung University (NCKU) and Fulbright Taiwan (FSE) held a tree-planting ceremony near Jingpo Gate (or"lesser west gate", 小西門). In addition to symbolizing the long-standing friendship between both parties, the ceremony also marked the launch of the Mandarin-Taught Master's Degree Program Award in History. By cofinancing this program, NCKU and FSE hope to encourage American students to pursue a master's degree in Mandarin-Taught and History at NCKU, strengthening the talent exchange between the two countries.

The distinguished guests included NCKU's Executive Vice President Su Fong-Chin, the Vice President for International Affairs Hsiao-Wen Wang, the Vice President of the Office of General Affairs Yao, George-C, the head of the History department Wen-Sung Chen, FSE Taiwan's Executive Director Randall L. Nadeau, and the professor of the Economics Department Yi-Chi Chen, who was once received the Fulbright Research Award. Chen was also an initiator of the ceremony and successfully invited the honored guests to plant a Taiwan Ebony tree together to symbolize NCKU and FSE's long-standing friendship.

Taiwan Ebony is a native plant of Taiwan that grows in the southern part of the country. As well as being one of the valuable woods, it has been planted in NCKU's campus for many years. This kind of tree blooms from March to May and bears edible fruit in September and thus contributing to the campus's sustainable ecosystem.

NCKU's Executive Vice President Su spoke at the ceremony about the university's cooperation with FSE. NCKU had its first Fulbright Scholar in 1959, and its first Fulbright Student in 1962. To date, 55 NCKU scholars have been given the opportunity to visit the U.S. through the Fulbright program, which has broadened their horizon and helped them understand global mobility, as well as allowing them to pass and share the experience with students and Tainan residents.

He also believed the ceremony holds many future expectations, including NCKU would welcome more Fulbrighters to study in fields such as energy engineering and creative industry design, as well as fostering more international cultural exchanges between Taiwanese and American students. The tree planted also contained a special meaning because Taiwan Ebony symbolized home to Amis, one of Taiwan's aboriginal tribes, so planting one also showed NCKU's attempt to make itself a foreign home for the FSE and future Fulbrighters.

FSE Executive Director Randall Nadeau mentioned that when he came to Taiwan 40 years ago, he visited NCKU to see the famous Banyan Trees. Now, he was back to plant one himself, which brought him a great deal of joy. A tree planting ceremony, he explained, was both environmentally friendly and would foster a sense of community. "This partnership will continue to grow; it will be vigorous, fruitful, and able to withstand challenges," he concluded. In closing, he reiterated that he was looking forward to the collaboration being productive, and invited NCKU scholars to become Fulbright scholars in the United States.

According to Yi-Chi Chen, a professor at the Department of Economics, the ceremony was held in the right place at the right time despite the COVID -19 pandemic. In his speech, he mentioned Fulbright Taiwan's vision, "A world with a little more knowledge and a little less conflict." and used the Jingpo Gate as an example to express that the tree would remind us that the power of knowledge can eliminate conflict.

The Chair of the History Department Wen-Sung Chen talked about Dr. Nadeau's semester teaching at the department in 2011, which led to the possibility of cooperation. Moreover, he expressed gratitude to Fulbright for opening up the humanities award plan with NCKU so that his department could welcome American students next year. Following that, he shared the story of Taiwan Ebony and Tainan local writer. Furthermore, he envisioned this tree as a potential new destination for Exploring Tainan students.

NCKU launched two award programs with FSE: NCKU Master's Degree Program Award in Creative Industries Design in 2014, and NCKU Master's Degree Program Award in Energy Engineering in 2019. Both programs attracted an impressive number of applicants. A further two cooperation programs have been launched by NCKU to attract excellent American students, and the subsidy places have been increased from two to eight since 2020. Also, in 2021, FSE and NCKU signed the "Consortium for Study Abroad in Taiwan (CSAT)" MOU, allowing American undergraduates to study in NCKU for one semester.

The Mandarin-Taught Master's Degree Program Award in History is the third award created by FSE and NCKU. As part of the program, the recipient will study one year of intensive Chinese courses to prepare for this two-year master's degree program taught in Chinese. For the American recipient of the award, full tuition support will be provided. They will, however, need to be English Language Assistants and interns at the NCKU Museum to better understand the subject matter. The program and training should give award-winning students the opportunity to acquire world-class education and research opportunities, as well as professional Mandarin teaching skills that will make them more competitive in the workplace. For NCKU, their English proficiency can be used to enhance the English proficiency of local students so that they can respond to the 2030 bilingual policy and increase Taiwan-US talent exchange opportunities.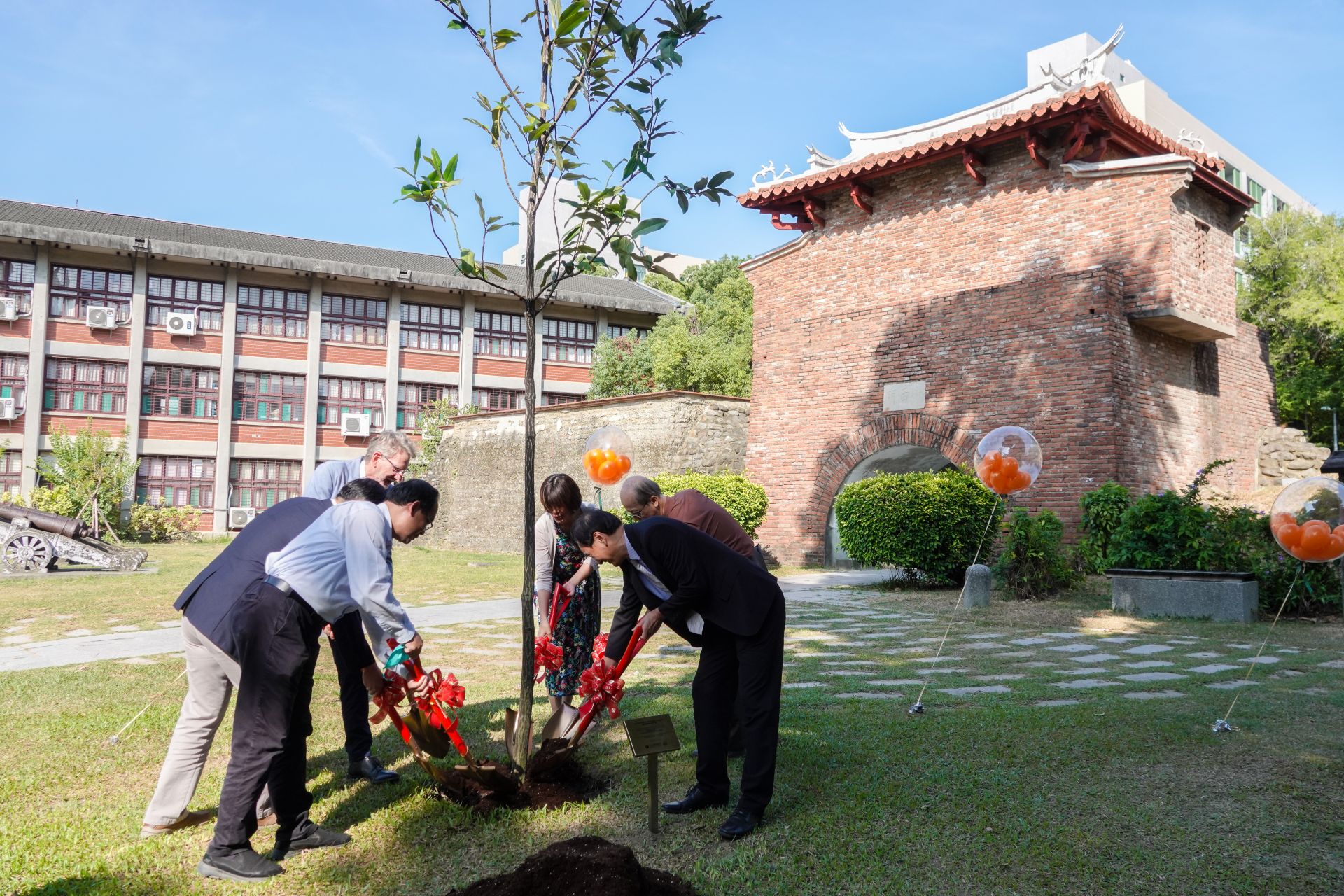 FSE and NCKU representatives planted a Taiwan Ebony tree near the Jingpo Gate on October 26 to express the expectation of a productive partnership.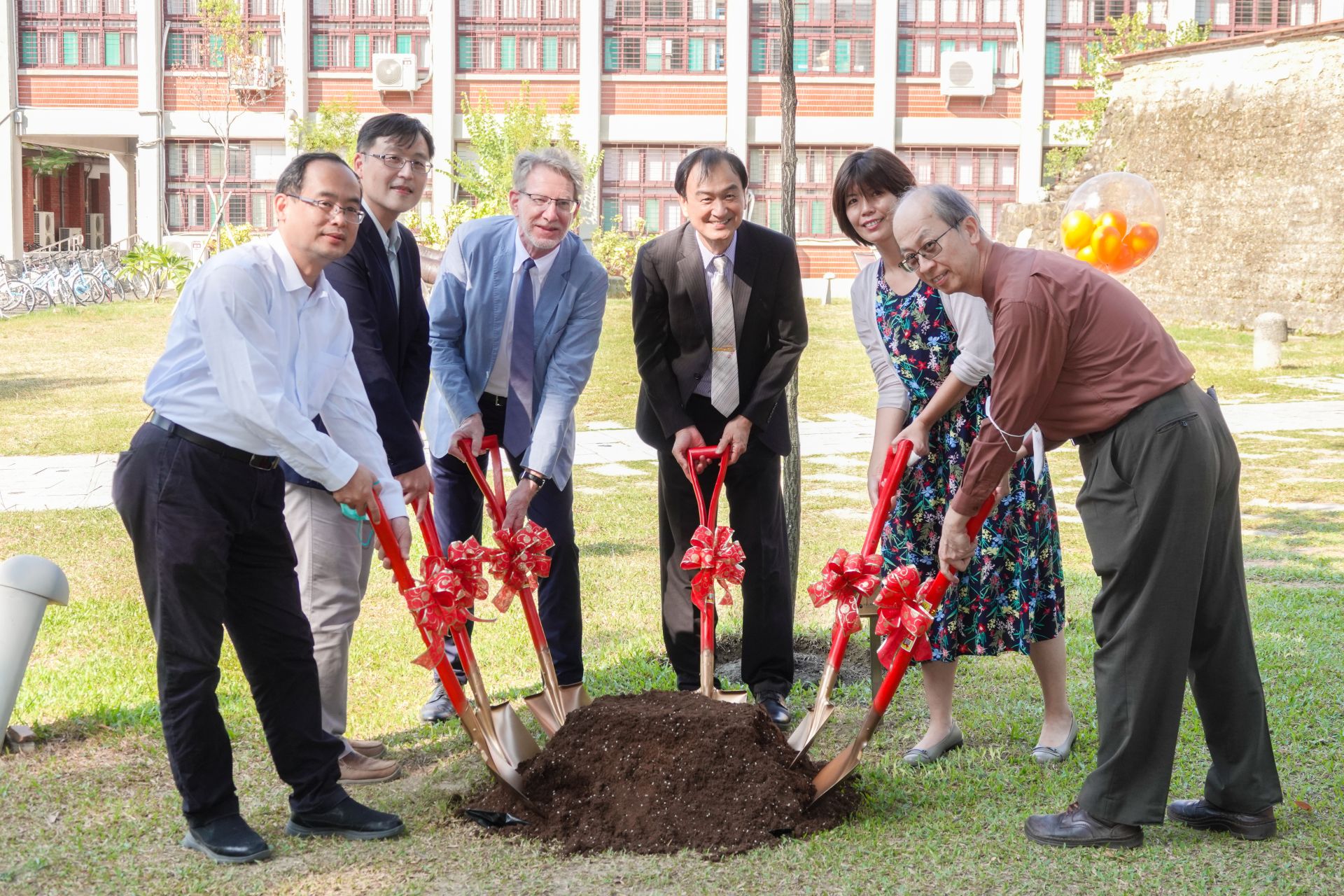 NCKU and FSE celebrated the long and steady partnership with the tree-planting ceremony.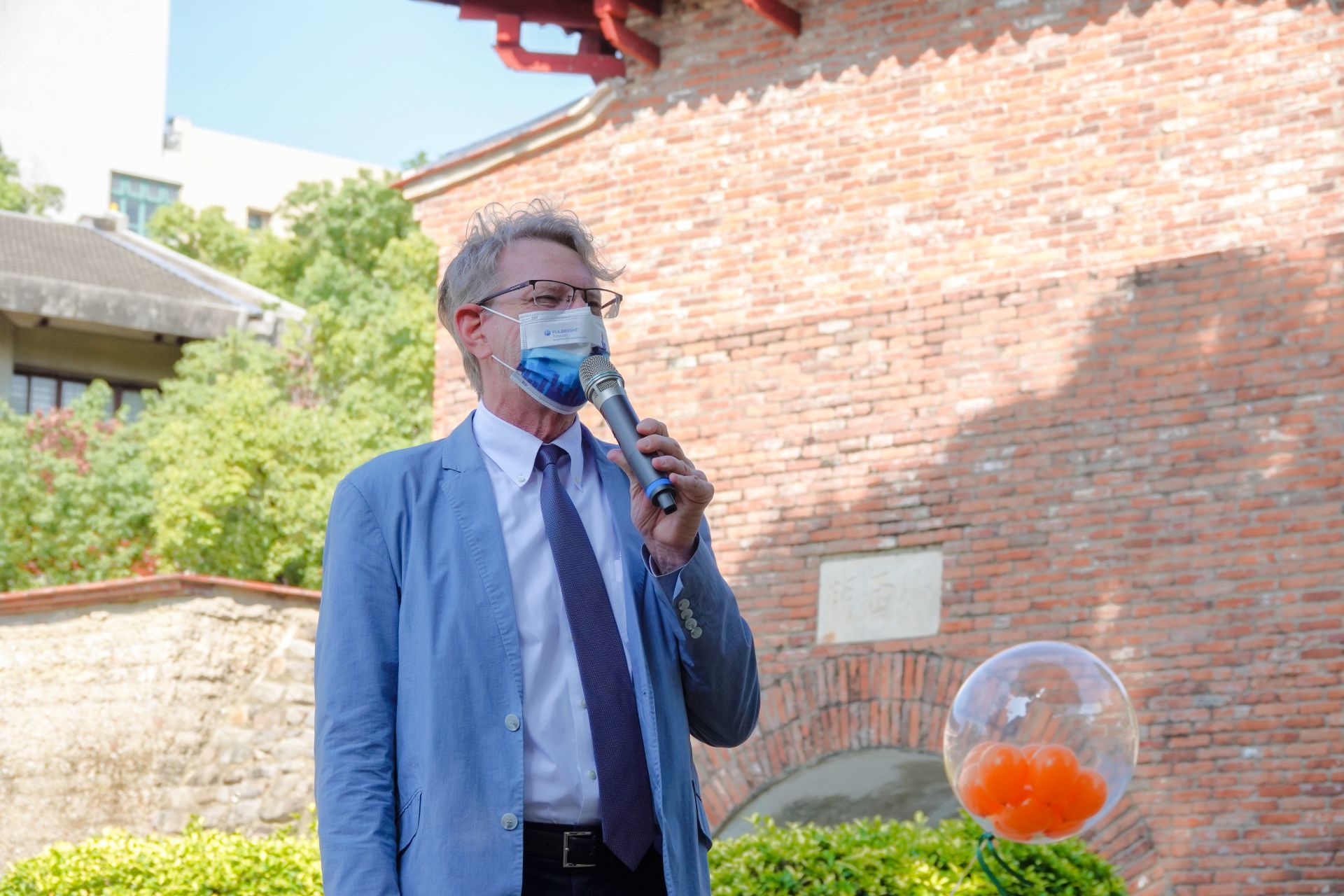 This tree-planting ceremony represented the partnership between both sides would grow strong and fruitful just like a tree, explained Dr. Randall Nadeau, the Executive Director of FSE.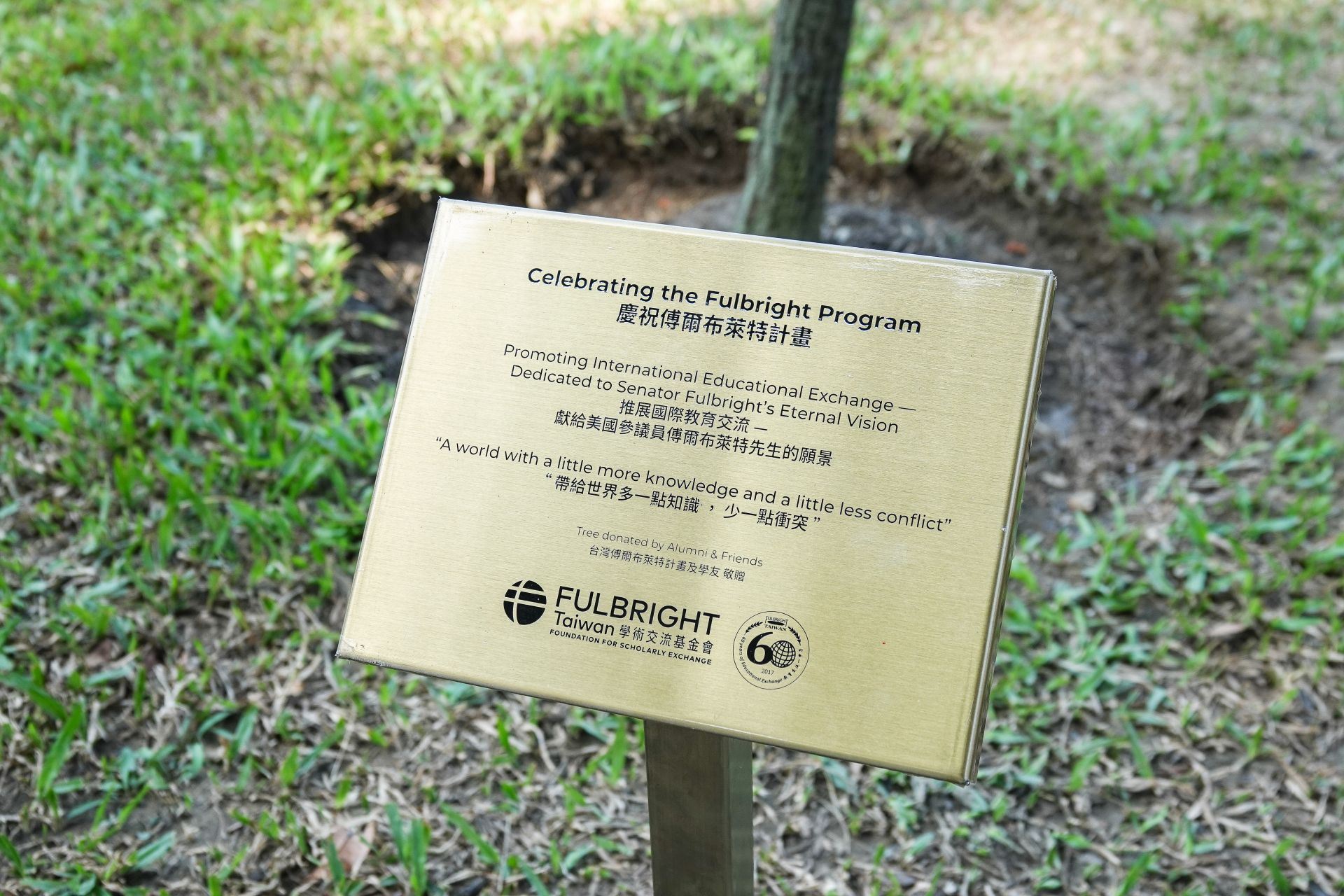 The interpretive sign told the spirit of FSE.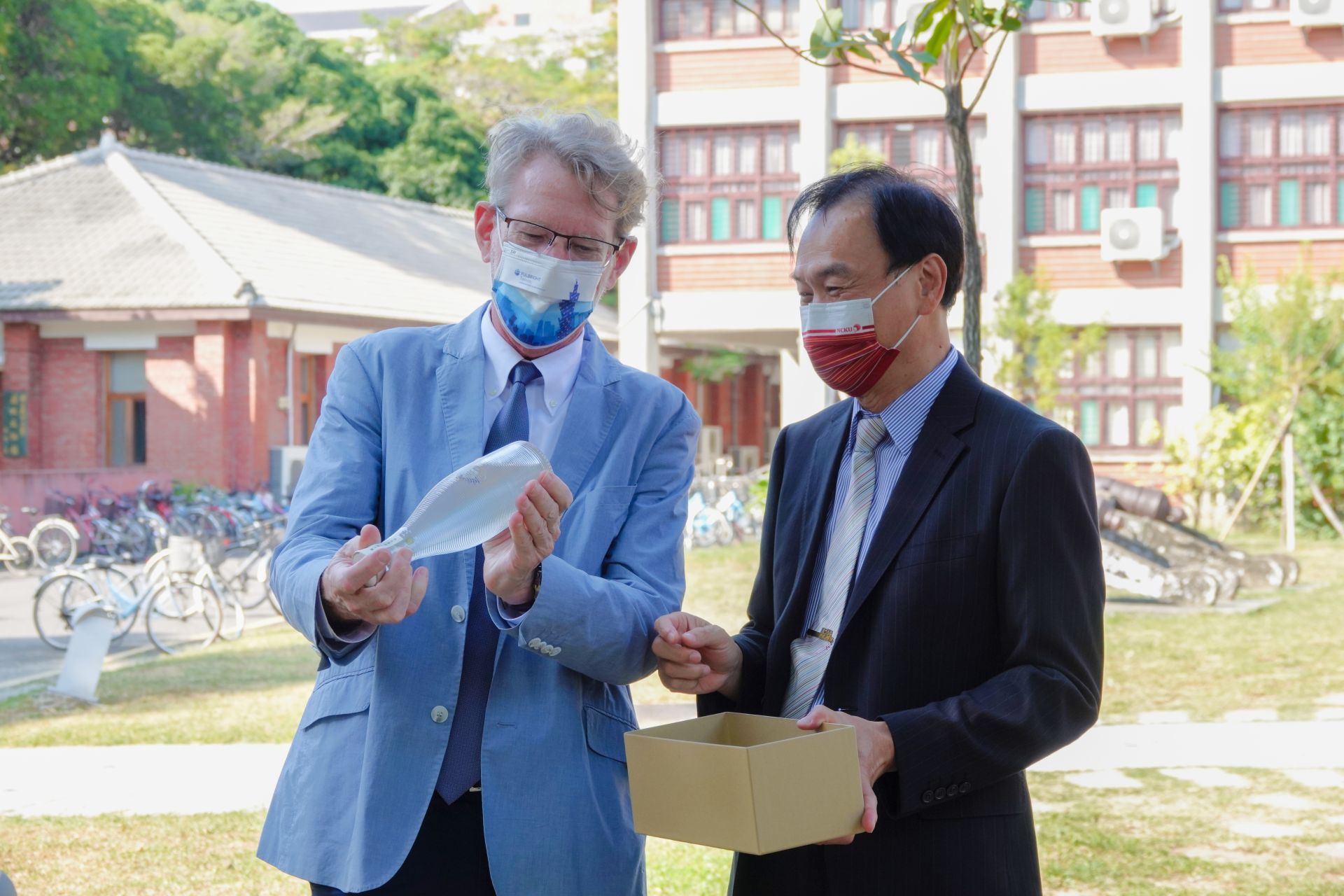 NCKU's Executive Vice President Fong-Chin Su (the right) presented the FSE Executive Director Dr. Nadeau with the NCKU 90th Anniversary Matsu Kaoliang Liquor.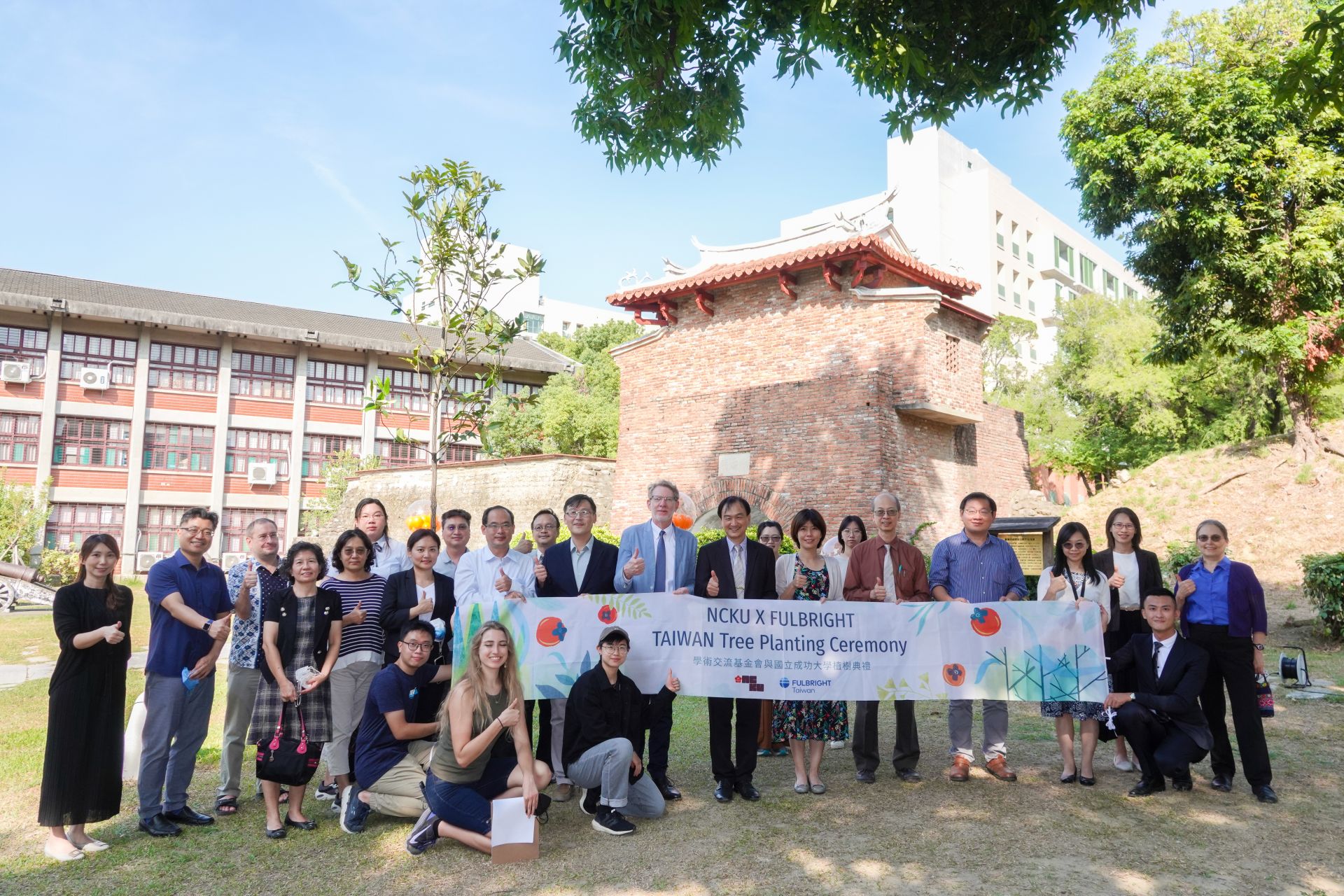 Group photo featuring faculty from Office of International Affairs and History Department, and Fulbright Study Award awardees as Master of Ceremony in front of Jingpo Gate.