【Young Scholar】NCKU 90 and Beyond Project Scholar Luke Smith's Research Results Featured in International Journal PRL
SDG9
【Young Scholar】NCKU 90 and Beyond Project Scholar Luke Smith's Research Results Featured in International Journal PRL
【Young Scholar】NCKU 90 and Beyond Project Scholar Luke Smith's Research Results Featured in International Journal PRL
Good news from NCKU's new students! Luke Smith, an assistant research professor in the NCKU 90 and Beyond incubation program, published a paper as the first author in November 2021, in which he demonstrated the experimental results of the all-electric control of the Kondo effect by generating spin-orbit interactions. The paper was published in Physical Review Letters (PRL).
PRL is a prestigious international journal in the field of physics and mathematics, which receives daily submissions from scholars around the world. And among those submissions, only one quarter of the articles can be selected for publication, and only one in seven of them can be selected as Editors' Suggestions, which is a recognition of the quality of the content and is therefore highly respected among scholars.
Luke Smith, the Assistant Research Professor of the Center for Quantum Frontiers of Research & Technology, is the first author of the rewarded paper 〈
Electrically Controlling the Kondo Effect
〉. He and his research team at NCKU have demonstrated an all-electrical approach to controlling the Kondo effect, which will lead to a better understanding of spin-based quantum computers that generate spin-electron interactions. The results will facilitate a better understanding of spin-based quantum computers that generate spin-electron interactions, improve the understanding of the performance of the components, and inspire researchers to think about subsequent applications.
In the 1930s, scientists discovered that the resistance of alloys doped with magnetic impurities decreases as the temperature decreases, but once a critical temperature (Kondo temperature) is exceeded, the resistance of this alloy increases. In 1963, Japanese scientist Jun Kondo proposed a theory of quantum interaction to explain the cause of the effect, and the phenomenon became known as the "Kondo effect".
Using this property, Luke has demonstrated that the peak position of the Kondo effect can be controlled in an all-electric manner by combining materials with Spin-orbit-coupled system properties, avoiding excessive interference of magnetic fields on precision components, achieving flexible use of material conductivity, and increasing the options of manipulating components for more experimental transformations in electrical engineering. Luke's ingenious combination of the properties of quantum components and the use of spin-orbit interactions to achieve "all-electric" control of the Kondo effect is the innovation and breakthrough of this research.
To do this, researchers need to fully understand what materials produce "spin-orbit interactions," and the properties of many innovative materials have only been validated over the last decade. "And even when the experiments are done, they are still subject to questioning," Luke said. Luke said that in the academic world, in addition to experimental proof, there is also a need for theoretical support to convince the public. Therefore, Luke collaborated with Hong Bin Chen, an assistant professor in the Department of Engineering Science at NCKU, and combined with his computational skills to provide a perfect interpretation of the research experiment and prove that the all-electric control of the Kondo effect is feasible.
Luke joined NCKU's Center for Frontier Quantum Science and Technology (QFort) in August 2021 through the NCKU 90 and Beyond Incubation Program, and only officially arrived in November due to the epidemic. The PRL publication is due to Luke's understanding of material properties and ingenuity in designing experiments, as well as his long-standing friendship with NCKU professors. During his master's degree at Oxford University, he received a 3-year scholarship with honors and conducted research on the photothermal deflection of thin membranes. After graduating with a master's degree, he pursued a PhD in physics at the University of Cambridge, where he authored three international symposium papers and a PhD thesis, which were presented at international symposia.
While studying for his PhD at Cambridge University, Luke met Professor Tse Ming Chen of the Department of Physics of NCKU, who was also a PhD student at Cambridge at the time. After Luke became a postdoctoral researcher at Cambridge and Professor Chen returned to Taiwan, the two of them engaged in a cross-sea academic collaboration between Taiwan and the UK. In 2017, Luke was invited by Prof. Tse Ming Chen to collaborate on 2D materials and spintronics research at National Cheng Kung University. Not only did the tacit understanding between the two of them allow the research to proceed smoothly, but Luke also felt the beauty of Taiwan's weather, food, and environment and was inspired to develop his career in Taiwan. Although he returned to Cambridge University to do research after only one year, Luke worked hard to learn Chinese and continued his studies after returning to his country to maintain his language sense in order to return to Taiwan someday.
Speaking of his trip across the ocean, Luke says that although his parents are British, he was actually born in Africa and returned to England when he was six years old, which allowed him to develop a different view of the world and not set limits on himself. Luke believes that going to another country allows him to learn and inspire creativity by understanding how different cultures think. Despite visiting Japan, Korea, Australia, and Europe during his many international conferences, he still loves Taiwan, so when NCKU's 90 and beyond incubation program began in 2020, he did not hesitate to apply and come to Taiwan to work with his partner, Professor Tse Ming Chen.
Luke said that when he came to Taiwan back in 2017, he found that he liked the environment very much. In addition, he believes that NCKU is a top-notch research school with a good environment, and the students in Tse Ming Chen's lab are smart and hardworking, as well as spontaneous in their research. Through the NCKU 90 and Beyond program, Luke has not only revisited the area, but has also continued to work with a team of students and faculty members he has worked with for a long time.
"This project is like a bridge that allows me to realize my plans," said Luke. In the future, he plans to build a research team in Taiwan to focus on solving the challenges of 2D materials in computing, including the scalability of 2D materials process equipment, leveraging the advantages of 2D components and understanding their operational and quantum properties for subsequent application in more electrical engineering-related industries, so that the research can be truly realized.
With funding support from the Ministry of Education's Higher Education Advancement Program, the NCKU 90 and Beyond Incubation Program has been launched since 2019. By recruiting outstanding overseas PhD scholars in different fields to teach or conduct research at NCKU, it will not only enhance the overall R&D capacity of the campus and the comprehensive reputation of NCKU in the international arena, but also enable scholars to devote themselves to their research work in a financially secure situation, creating a win-win situation for both parties.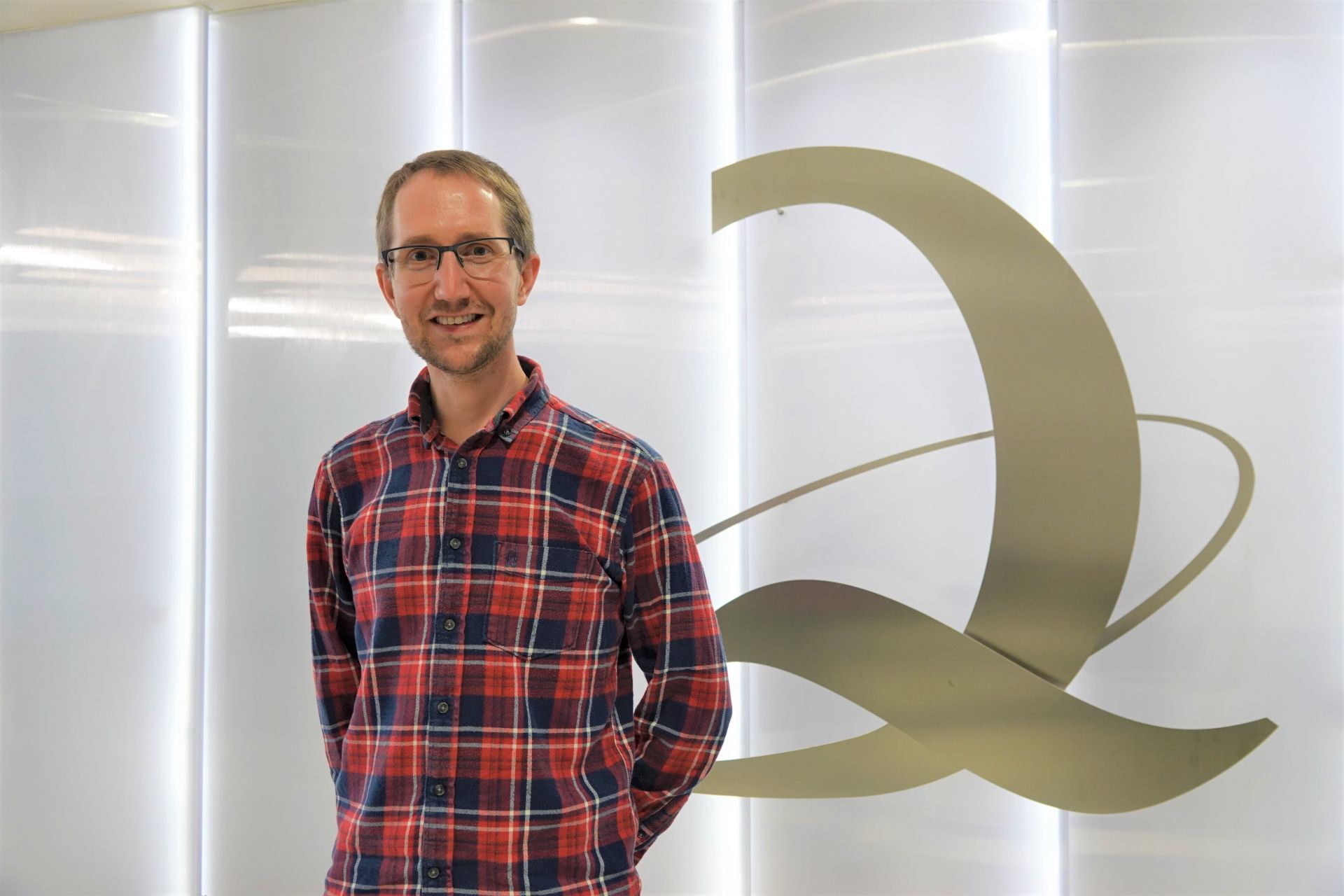 Luke Smith, the Assistant Research Professor of the NCKU 90 and Beyond program.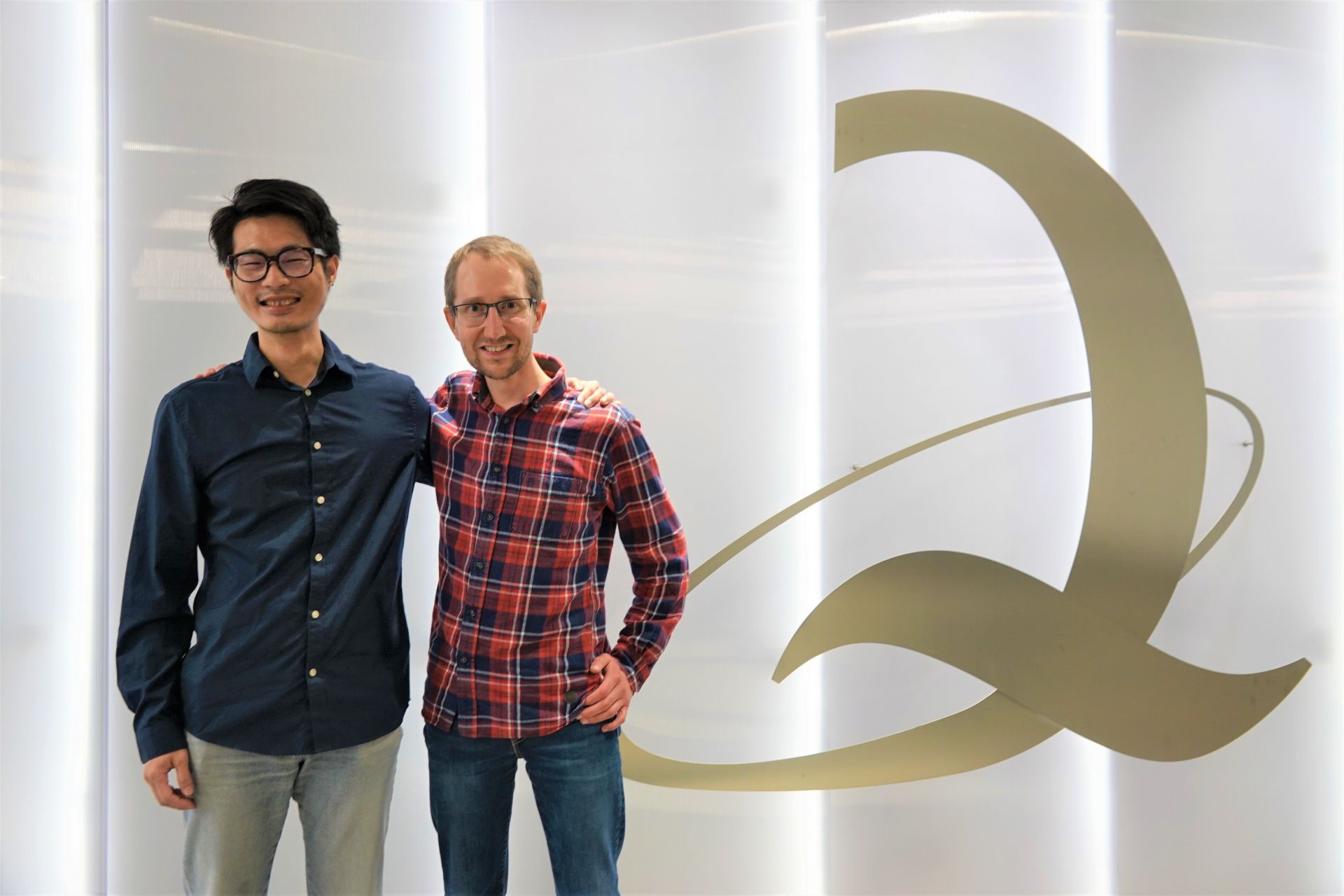 The research result of Hong-Bin Chen and Luke Smith was published on PRL.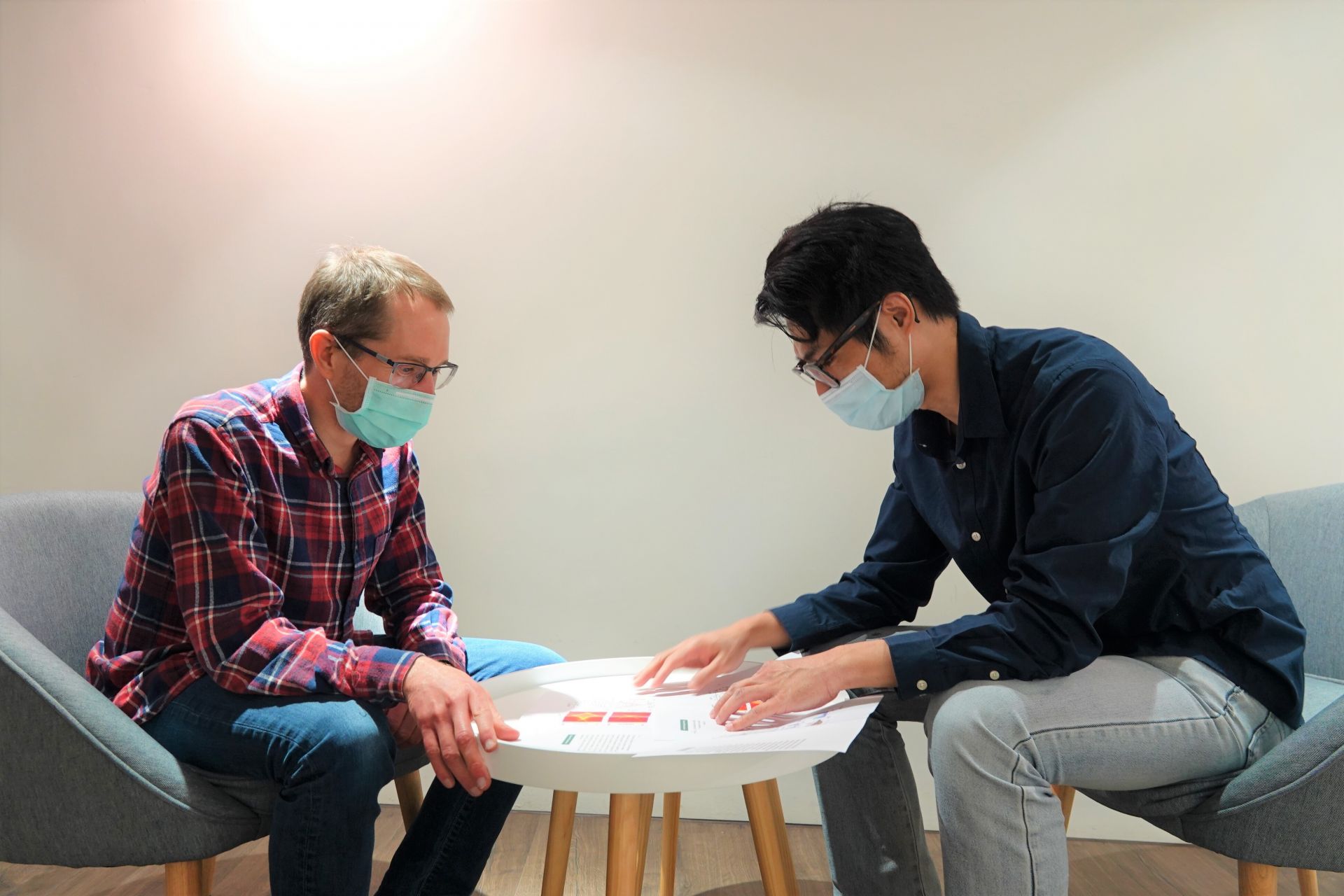 Hong-Bin Chen and Luke Smith discussing on their research.