The "2023 Tainan Science Week," a significant event aimed at promoting science popularization, was inaugurated during the opening ceremony held at Jiangjun National High School on May 29th. The event, organized by the Center for Science Education at NCKU, features 10 science booths and a science escape room centered around the theme "熱力四射" (Radiant Energy) this year. Students engage in hands-on experiments at the booths before collaborating to enter the escape room, where they tackle puzzles, unlock treasure boxes, and apply the scientific knowledge and skills acquired during the science fair. Participants unanimously expressed their enthusiasm for the engaging science experiences, revealing the underlying scientific principles behind various phenomena and dispelling the notion that science is overly complex.

The National Science and Technology Council (NSTC), the Tainan City Government, and NCKU have joined forces to advance science popularization. A team of professors from NCKU has curated science activities and educational tools based on diverse themes derived from the junior high school natural science curriculum. The 2023 National Science Week in Tainan City is set to take place across 25 junior high schools. The opening ceremony witnessed the presence of esteemed figures, including NCKU Vice President Yuh-Neu Chen, Dean of the College of Science Chin-Chun Tsai, NCKU Physics Department Professor Rue-Ron Hsu, Director of the Science Education Center Yi Yang, Deputy Director of the City Hall Education Bureau Kun-yuan Wang, and Principal of Jiangjun Junior High School Yuan-Jin Hsieh. Educators and students from numerous schools also actively participated in the event.

Vice President Yuh-Neu Chen, in her address, recounted her apprehension towards physics during her own junior high school days, even recalling an instance when she failed an exam and was moved to tears. However, her perceptions transformed after engaging in activities organized by NCKU's Science Education Center, revealing the captivating nature of science. The funding for the National Science Week initiatives originates not only from the National Science Technology Council but also benefits from the Education Bureau's support. These funds contribute to the creation and production of lesson plans and educational aids, which will continue to be accessible within the junior high school campuses, emerging as pivotal resources for fostering scientific curiosity and learning enthusiasm.

City Hall Education Bureau Deputy Director Kun-yuan Wang extended gratitude to NCKU for their exceptional design and planning efforts since the inception of Tainan National Science Week. The delivery of science education to Jiangjun Junior High School, located at a distance from the city, underscores a profound connection between NCKU and the local community. This collaboration effectively brings the university's resources to bear in promoting science education and enhancing understanding of scientific concepts and literacy.

The 10 science booths are categorized into two thematic groups: "heat and temperature" and "force and collision," each featuring 10 distinct experiments (including the enthusiasm thermometer, drinking bird, Galileo thermometer, cone rolling, tension overall, Newton's pendulum, cloud-raising device, light mill, four taels hanging a thousand pounds, and water cup ping-pong). Each booth is staffed by a student from Jiangjun Junior High School, having received prior training from both the Center for Science Education and their school.

Additionally, a science chamber has been constructed within Jiangjun Junior High School, housing five puzzles inspired by the science fair. This chamber aims to assess the extension of participants' scientific knowledge and thinking capacity while fostering group synergy, mutual understanding, and support. The NCKU Science Education Center emphasizes that success within this chamber serves as a reflection of participants' learning progress. The ultimate puzzle solution will be analyzed and reviewed, enhancing participants' learning outcomes.

Student You-Yu Liu from Chien-Hsing Junior High School articulated that the escape room puzzles delve into the principles and extensions of temperature, heat, force, and motion inherent in the natural science curriculum. Solving these puzzles is exhilarating, captivating, and slightly challenging, requiring a composed mindset and logical reasoning to swiftly arrive at solutions.

Xin-Ni Wu, an interpreter at Jiangjun Junior High School's science booth, shared how this role heightened her appreciation for effective communication skills. Repeated interpretation efforts contributed to her own clarity and deepened understanding of scientific principles, sparking a heightened interest in further engagement with science.

Yi Yang, Director of the Science Education Center, highlighted that the 10 experiments showcased at the 2023 Tainan Science Week Science Fair have evolved into comprehensive lesson plans, teaching aids, and detailed handouts. These resources have been distributed to the 25 participating junior high schools that will host Science Week activities, following their completion of related training programs. Corresponding to the junior high school natural science curriculum, these lesson plans and teaching aids span topics such as "Temperature and Heat," "Force and Motion," and "Forms and Transformations of Energy." They can be seamlessly incorporated into the curriculum to enrich science education and cultivate a new generation of scientific talents.

Since 2015, Tainan City's National Science Week activities have leveraged teaching materials and lesson plans developed by NCKU's team of professors. This team has created exercise sheets and graphical handouts for educators to utilize as supplementary teaching resources. The lesson plans for this year were delivered in mid-April through seed teacher-student camps to the junior high schools slated to participate in Science Week. Thus far, NCKU has designed 60 science lesson plans and teaching materials for educational institutions to integrate into their curricula.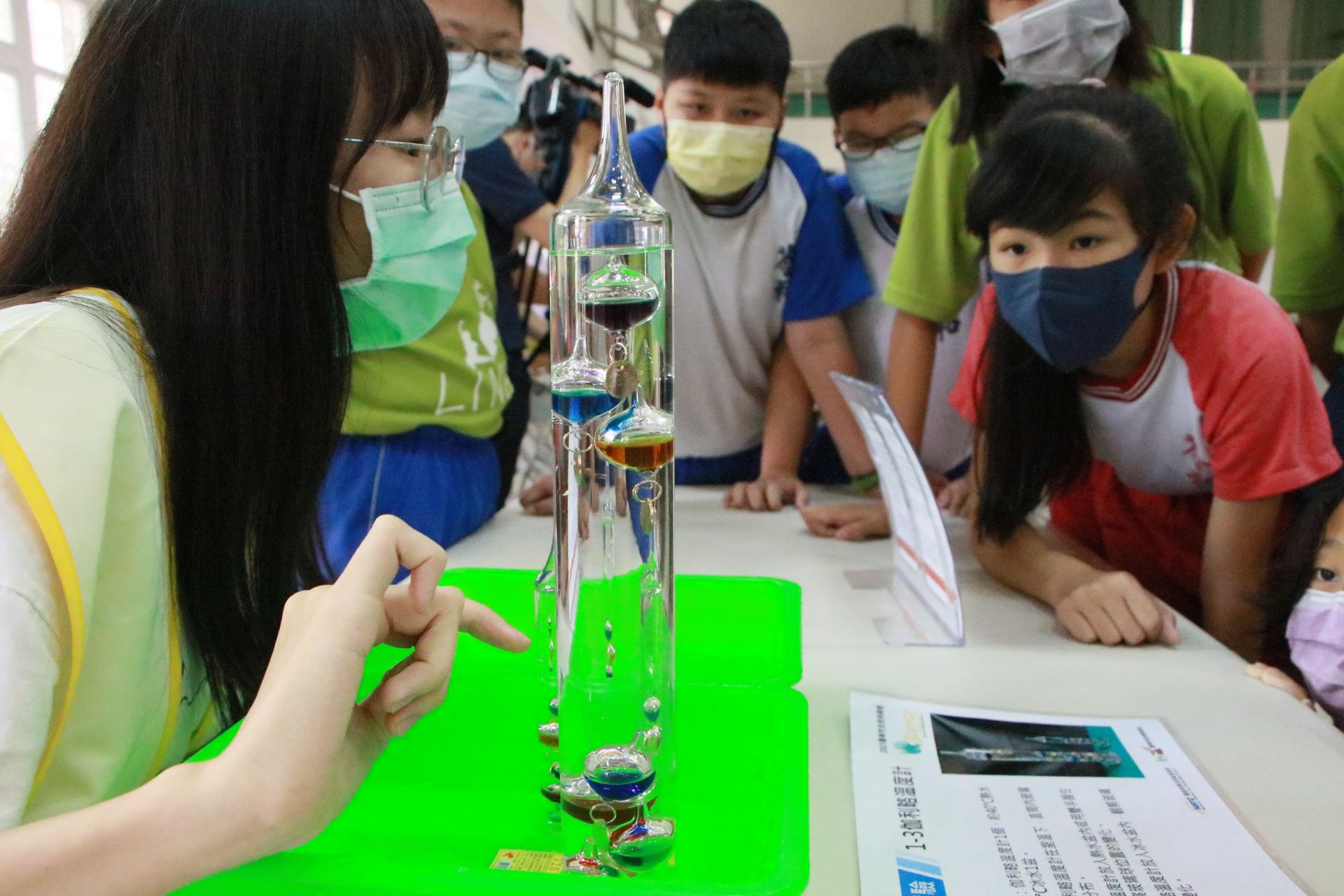 Galileo thermometer, illustrating the relationship between temperature and density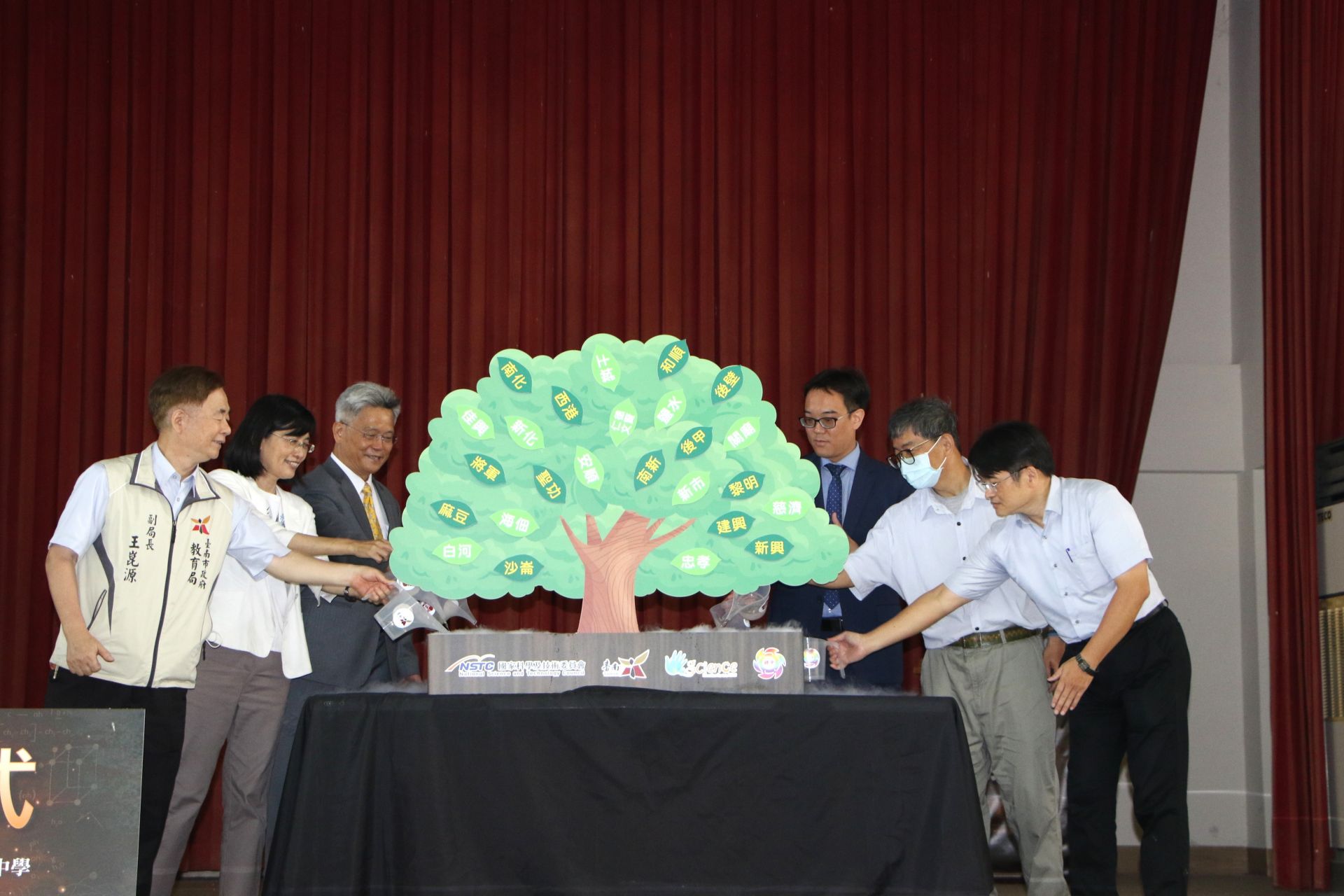 2023 Tainan Science Week begins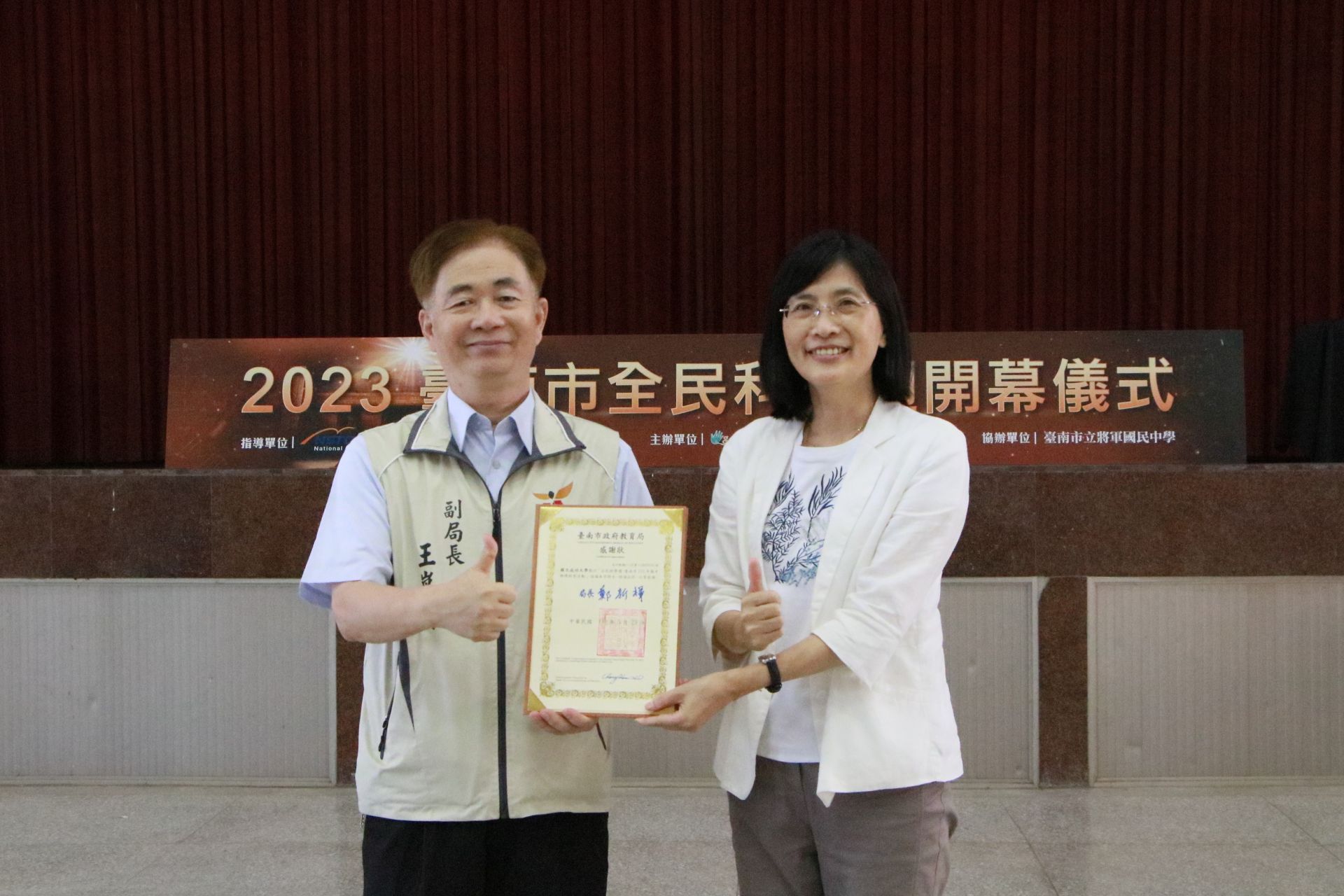 City Hall Education Bureau Deputy Director Kun-yuan Wang (left) presented the Certificate of Appreciation and Vice President Yuh-Neu Chen accepted it on behalf of NCKU.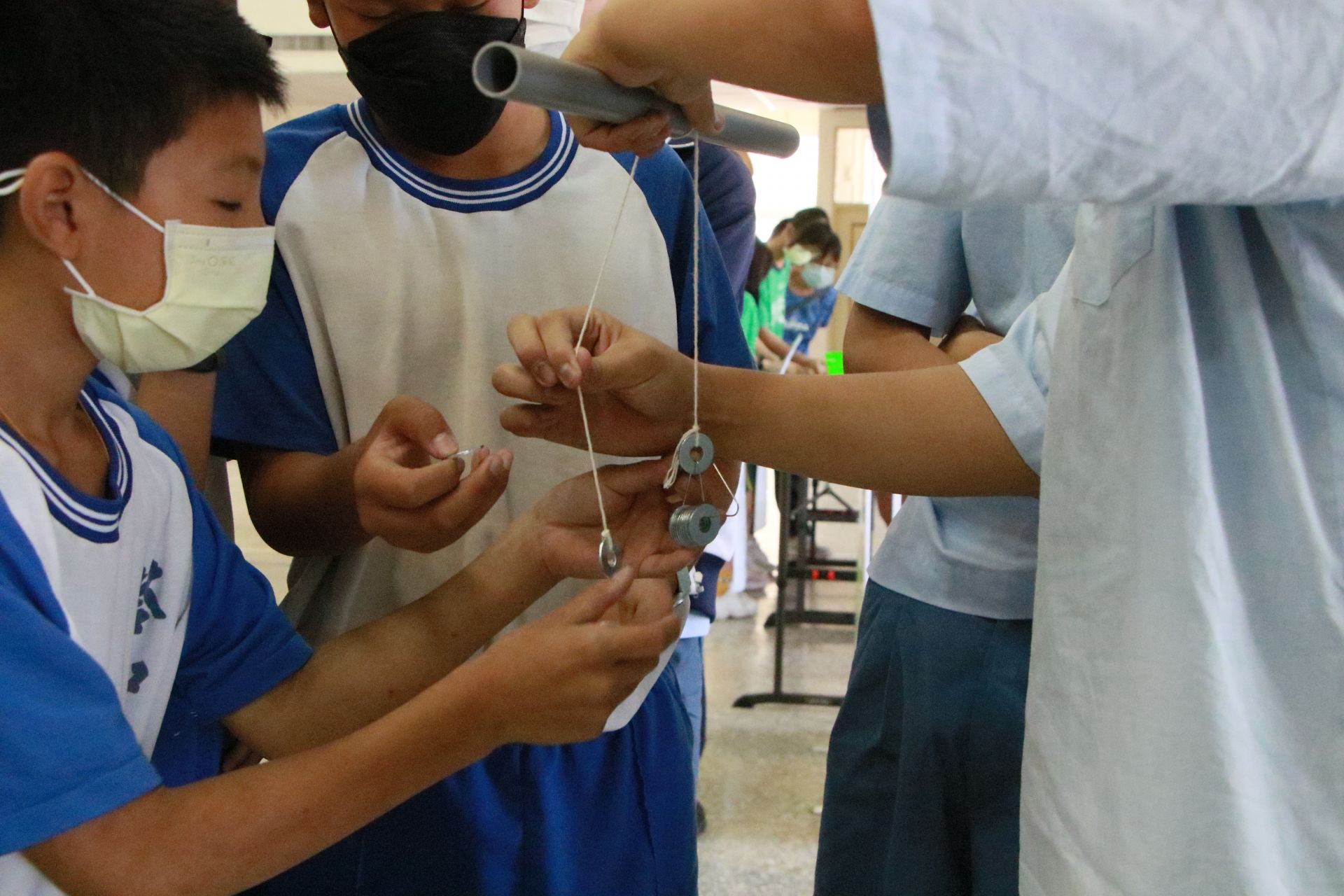 The experiment of "four taels hanging a thousand pounds" illustrates the principle of force and motion, and the fixed winch of the boat set is one of the applications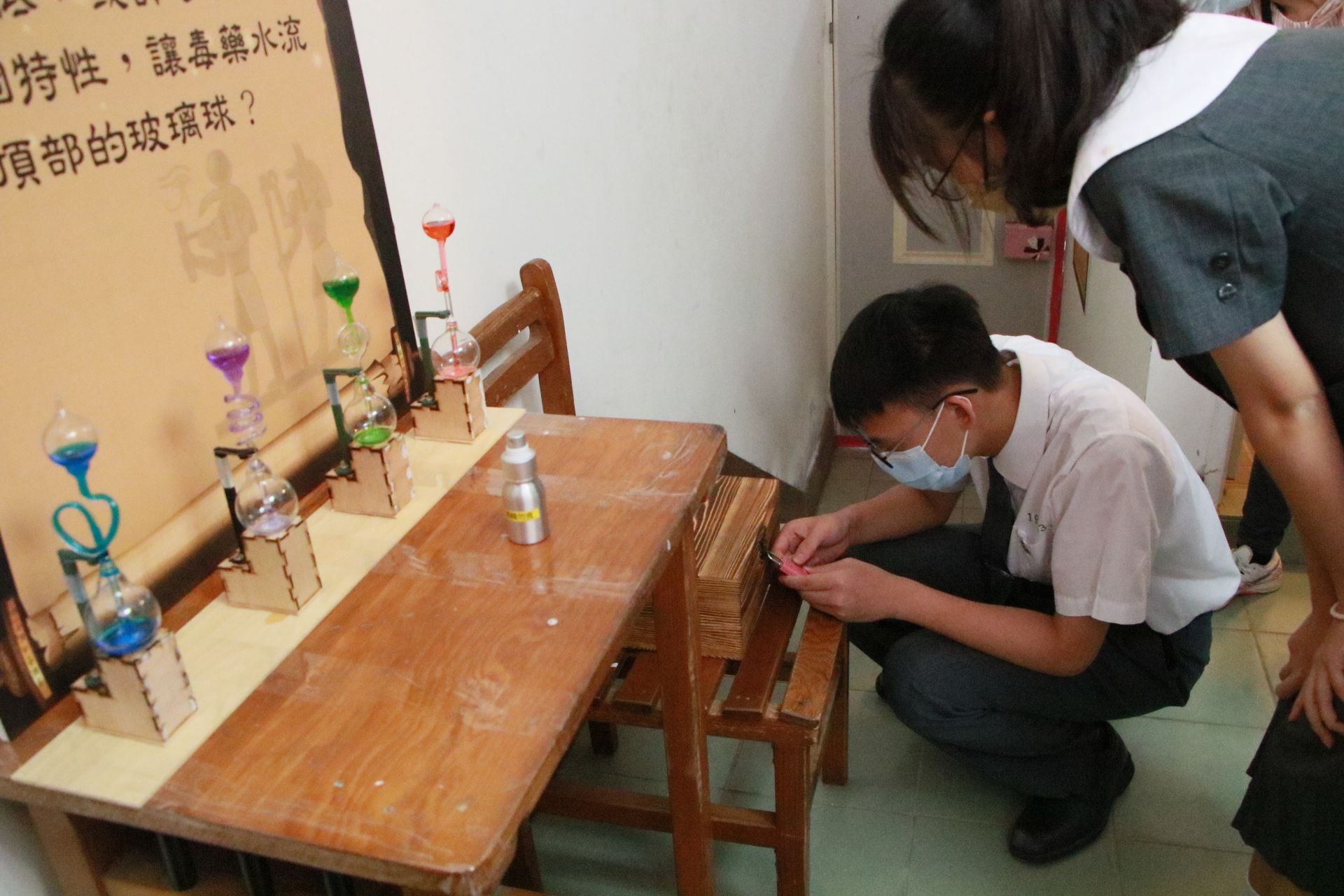 One of the levels of the escape room, the key to the puzzle is temperature