Tainan Low Carbon City Conference at NCKU: Unwavering Determination for Sustainable Development
SDG12
Tainan Low Carbon City Conference at NCKU: Unwavering Determination for Sustainable Development
National Cheng Kung University and the Shalun Innovation Alliance jointly held the Tainan Low Carbon City Conference 2021 together with the European Chamber of Commerce Taiwan on December 21. With "Public-Private Academic Partnerships (PPAP) for Sustainable Future" as the theme, experts from academia and industry talked about the concept and actions in sustainable development and talent cultivation. The NCKU, SIA, ECCT, and Tainan City Government signed a MOU, promising to collaborate in realizing sustainable development with joint efforts from the academia, government, and industry.

Huey-Jen Jenny Su, president of NCKU and also the Convener of the SIA, expressed that NCKU has put a lot of consideration into communicating with and contributing to the world, and has decided to incorporate the United Nations Sustainable Development Goals into the university's core value. Through continuous progress and refinement, NCKU is determined to promote sustainable development, aiming to reduce its carbon emissions by half by 2041. NCKU takes root in Taiwan and reaches towards the world, fostering collaboration with international partners to cultivate talents that can create a new world upholding sustainable spirits.

Huang Wei-Che, Mayor of Tainan City, expressed that the signing of the MOU today signifies Tainan City taking another step forward to realizing sustinable development. As the first city to pass a law on autonomous low-carbon city, Tainan City has been putting its utmost efforts into developing green energy to cut carbon emissions. Shalun has attracted top institutes such as Academia Sinica, Industrial Technology Research Institute, and NCKU, and is expected to adopt more comprehensive green energy plans to fulfill the goals of sustainable development.

Giuseppe Izzo, Vice Chairman of ECCT and VP of STMicroelectronics Asia Pacific Region, expressed that promoting innovative low carbon projects is a key subject for the ECCT. The ECCT has been working to raise sustainable awareness in Tainan, and this is the eighth consecutive year that the Tainan Low Carbon City Conference is held. Izzo pointed out that to reach net zero, it is crucial for all sectors to take actions to decarbonize, to build a sustainable supply chain, and to create sustainable business models.

In addition to the conference, NCKU promotes sustainable spirit on its campus with a five-day "Sustainable Week" event to prompt student interaction. On the second floor of the venue of the conference, the exhibition "NCKU Action: Our planet, our future" displays the efforts and results of NCKU in promoting sustainable development.

In the conference, scholars and experts talk about issues related to sustainable development in terms of the developmental situations in NCKU and Shalun. Under the general theme "Public-Private Academic Partnerships (PPAP) for Sustainable Future", topics such as carbon-negative technology, healthcare and biotech cluster, green hydrogen, and semiconductor and sustainable manufacturing were discussed. The panel discussion "Sustainable Supply Chain" at the end of the conference allowed the guests to exchange their views and experiences, and to imagine a future with sustainable supply chains.

The SIA was founded in May of 2020, led by NCKU and with joint power from the industry and government, emphasizing building a new ecology together. The alliance aims to create a city that is more lively, habitable, economically active and more energy efficient. Through cross-sector communication, the alliance keeps on pushing forward and takes firm steps towards realizing smart solutions for sustainable development in Taiwan and the world.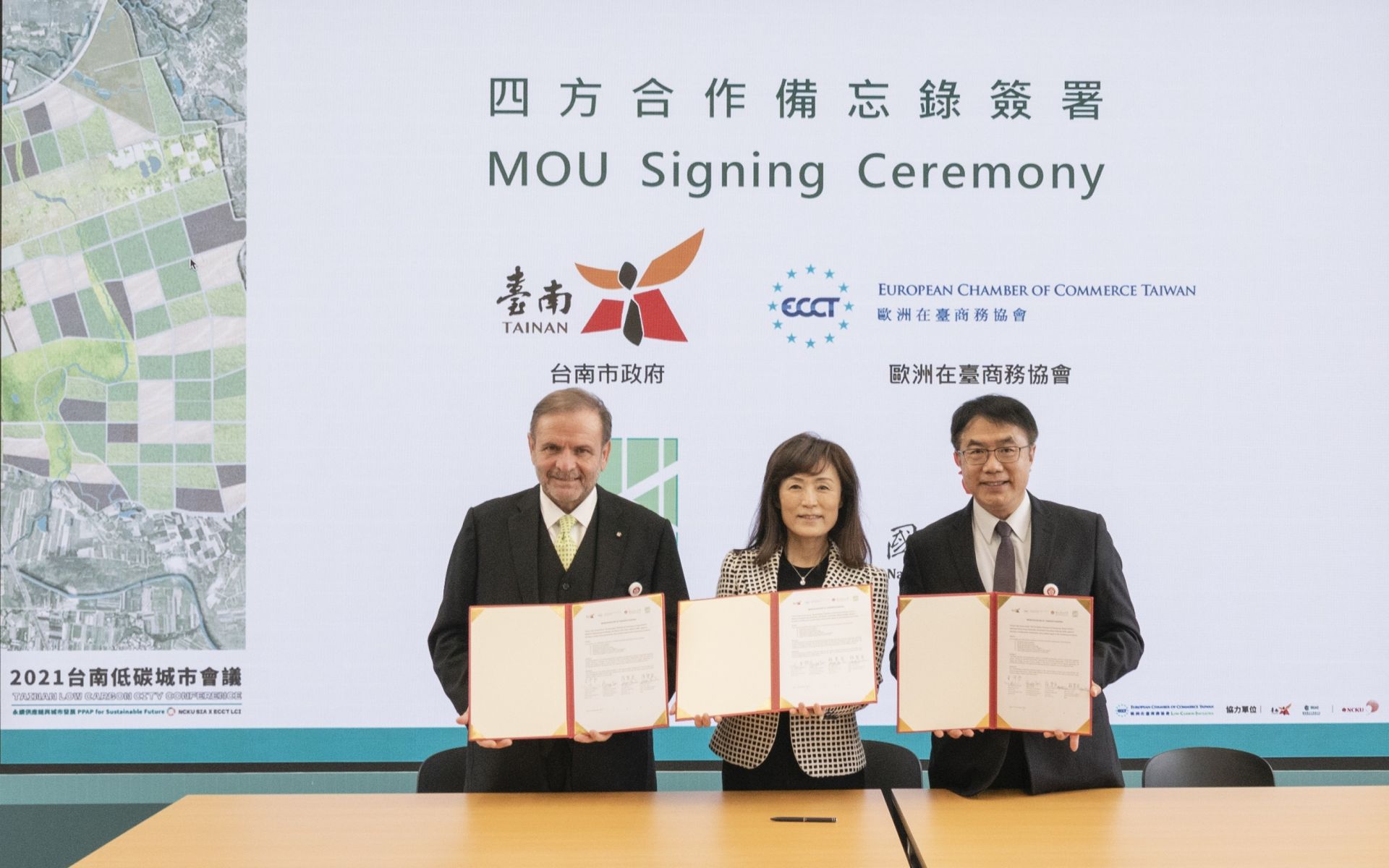 NCKU, SIA, ECCT, and Tainan City Government signed a MOU to collaborate in realizing sustainable development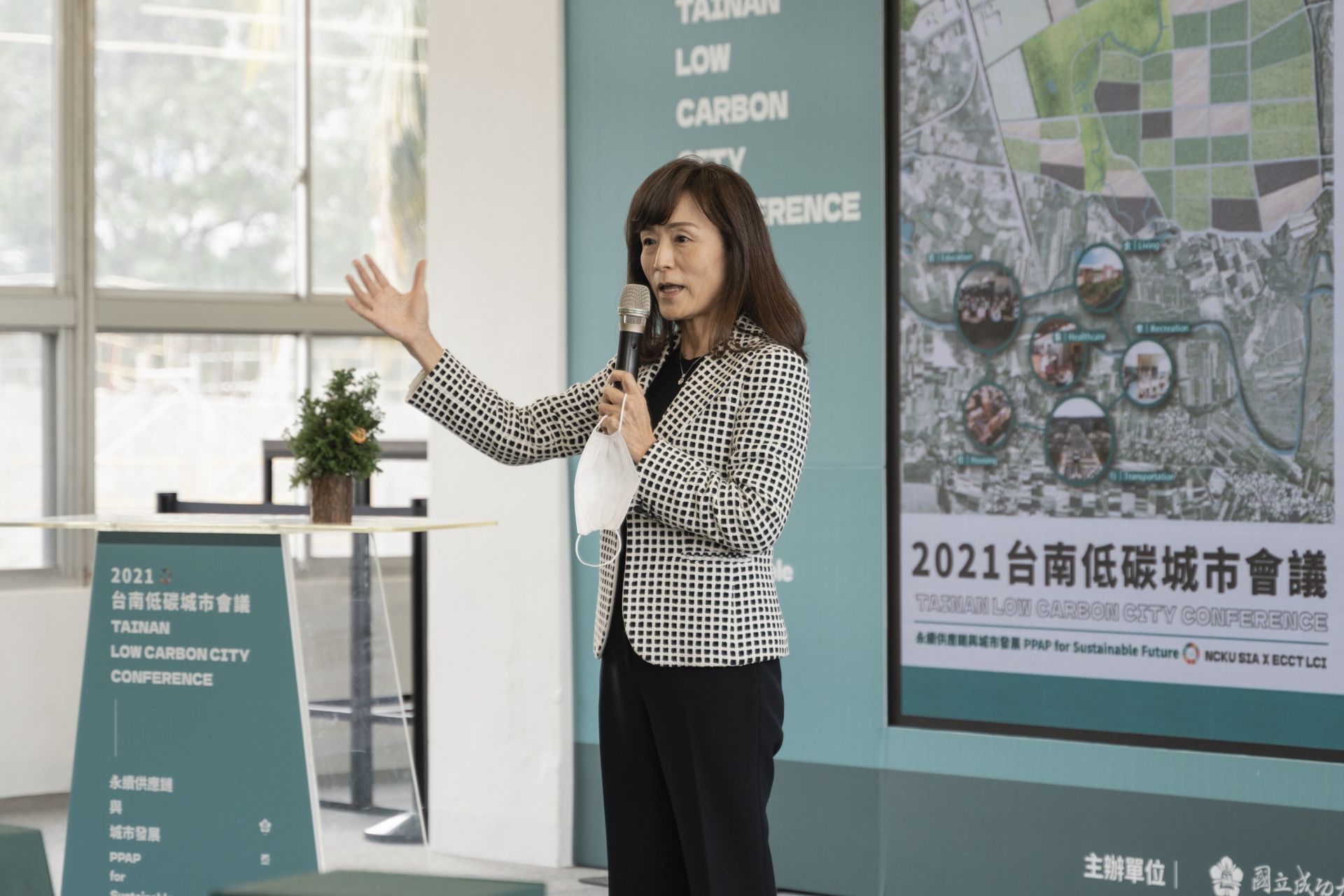 Huey-Jen Jenny Su, president of NCKU and also the Convener of the SIA, expressed that NCKU is determined to promote sustainable development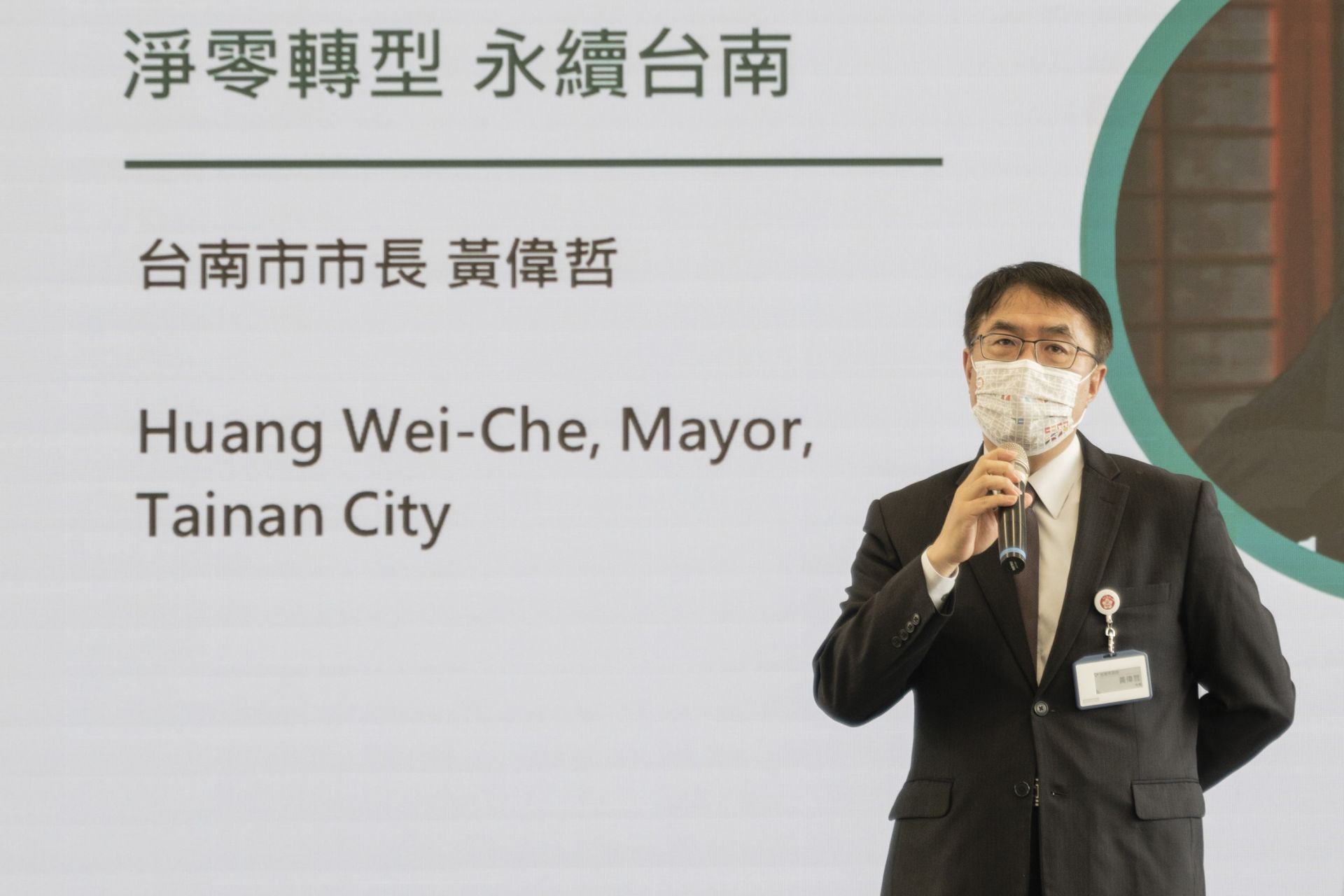 Huang Wei-Che, Mayor of Tainan City, expressed that Tainan City has been putting its utmost efforts into developing green energy to cut carbon emissions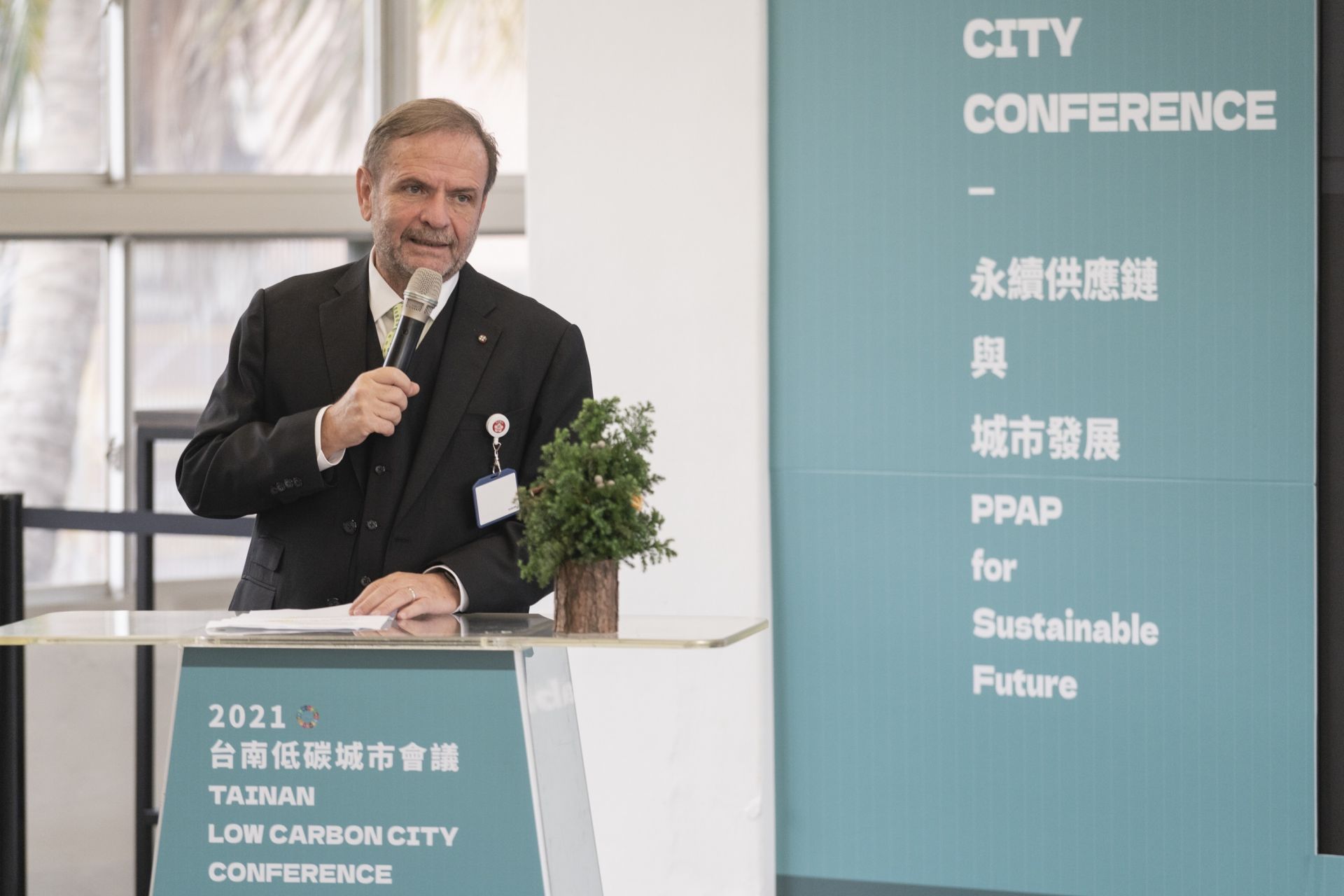 Giuseppe Izzo, Vice Chairman of ECCT, expressed that promoting innovative low carbon projects is a key subject for the ECCT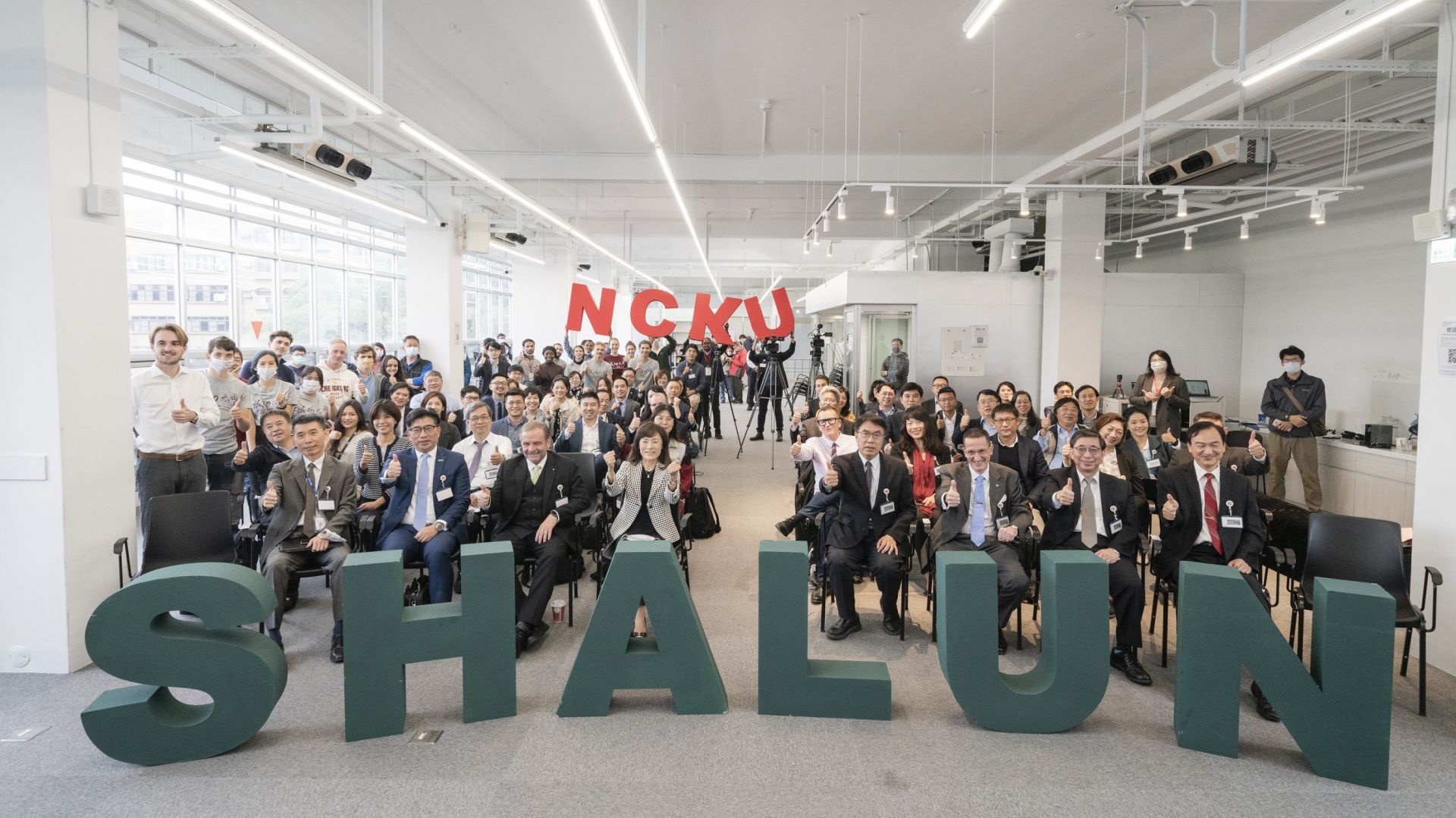 The Tainan Low Carbon City Conference allowed the guests to exchange their views and experiences on sustainable development