Leading Southeastern U.S. Chinese Education: Opening of Auburn University-NCKU Taiwan Center of Chinese Language and Culture
SDG4
Leading Southeastern U.S. Chinese Education: Opening of Auburn University-NCKU Taiwan Center of Chinese Language and Culture
Written by Hsu Tsu-Yueh. Image credit to Atelier Future & Office of Strategic Planning

On August 31, representatives of the National Cheng Kung University attended the ribbon-cutting ceremony, at Auburn University, Alabama, U.S., honoring the opening of the Auburn University-National Cheng Kung University Taiwan Center of Chinese Language and Culture. Huey-Jen Jenny Su, President of NCKU, Christopher Roberts, President of AU, Vini Nathan, Vice President of AU, and Elliot Wang, Director General of Taipei Economic and Cultural Office in Atlanta together announced the opening of the Center. This is the first collaboration with a university in the Southeastern United States. Not only is it an excellent opportunity to expand collaborations between the two universities across various fields, but it also consolidates Taiwan as an important headquarter for global Mandarin education.

NCKU and AU began in 2021 the Taiwan Huayu BEST Program that would run for three years. The AU-NCKU Taiwan Center of Chinese Language and Culture will facilitate two-way communication between the two universities for the teachers and students. Scholarships will be provided to support students from both universities to learn Mandarin and English. At the same time, Mandarin teaching and cultural events will foster and enhance the friendship and partnership between the universities, creating better education experiences in both AU and NCKU. The establishment of the Center stands as the pioneer of Taiwan-U.S. Mandarin education collaborations in the State of Alabama and Southeastern U.S.

NCKU President Huey-Jen Su expressed at the ceremony that NCKU, since its establishment, has carried the expectation to be a practical university and is keen to upholding this belief, constantly focusing on the needs of society, and it brings joy seeing that Auburn University stands by the same ideal to support Alabama, its nation, and the whole world.

Huey-Jen Su pointed out that NCKU is one of the only two schools in Taiwan included in the Critical Language Scholarship Program funded by the U.S. Department of State. Each year, many elite students come to Taiwan to receive education and training in NCKU, not only because of the excellent faculty of NCKU, but also because of the abundant research resources and immersive local culture. The Center is expected to become a bridge that brings more students to study and experience the culture in Taiwan through the efforts from AU and NCKU. Su wishes the Center success, which is the meaning of "Cheng Kung" in the university's name.

Meanwhile, Su introduced the Chinese couplet gifted by NCKU in celebration of the Center. Cleverly incorporating the names of the two universities, the Chinese couplet means "A glimpse into the beauty of profound knowledge sees the shine of culture; applications in life crystalize the brilliancy of accumulated culture."

AU President Christopher Roberts pointed out that AU and NCKU as sister schools has facilitated many connections. Regarding the recently passed U.S. CHIPS and Science Act that would support local chip industry with tens of billions of dollars, he is reminded of his visit to Taiwan, when he was greatly impressed by the world's currently largest chip factory and dust-free room in the Southern Taiwan Science Park. He anticipates collaborations on semiconductors between the universities, which can be expanded to other industries and fields. He hopes to explore more possibilities of collaborations for teachers and students, beginning from Mandarin education.

"As an education provider, we try our best to offer the best resources we can, and NCKU is the perfect partner," said AU Vice President Vini Nathan. AU is a confident and ambitious university, with a campus teeming with diverse cultures, languages, and backgrounds, where a culture unique to AU is formed through internationalization, nationalization, regionalization, and localization, and will continue to grow through a strong partnership. She believes that language learning is a stepping stone that opens up opportunities to more experiences in culture, literature, and creativity, which helps one to find a clear self-position and direction for the future. Therefore, she is more than happy to see both sides officially taking the first steps and establishing the AU-NCKU Taiwan Center of Chinese Language and Culture.

TECO in Atlanta Director General Elliot Wang expressed that the AU-NCKU Taiwan Center of Chinese Language and Culture will be the first Chinese language education center in the Southeastern U.S. In addition to holding Mandarin courses, cultural events and speeches, the Center will expand Taiwan-U.S. bilingual education and industrial collaborations, taking on the leading role in Taiwan and Southeastern U.S. educational collaborations. He expects to witness more agreements signed in the future that will implement further educational collaborations.

Kai H. Chang, a Taiwanese Professor Emeritus of AU, will be the Director of the AU-NCKU Taiwan Center of Chinese Language and Culture Director. The ribbon-cutting ceremony was attended by and received congratulations from many, including Nyan-Hwa Tai, President of Atlanta Chinese School, Min-Yuan Tsai, NCKU Chinese Language Center teacher in U.S., several faculty and staff members of AU, Taiwanese professors, and many students.

Auburn University, Alabama, U.S., is NCKU's partner school in collaborating on the Taiwan Huayu BEST Program, which began in May of 2021. Under the Huayu BEST Program, NCKU provides Huayu BEST Scholarship to AU and supports outstanding U.S. students in various professional fields in studying in NCKU, where they take 15 hours of Chinese class per week, lasting from three months to a year. Meanwhile, the AU students in Taiwan will participate in international exchange events overseen by the Ministry of Education or assist in junior high school and elementary school bilingual classes. To date, four AU students have completed their courses in NCKU through the Taiwan Huayu BEST Program.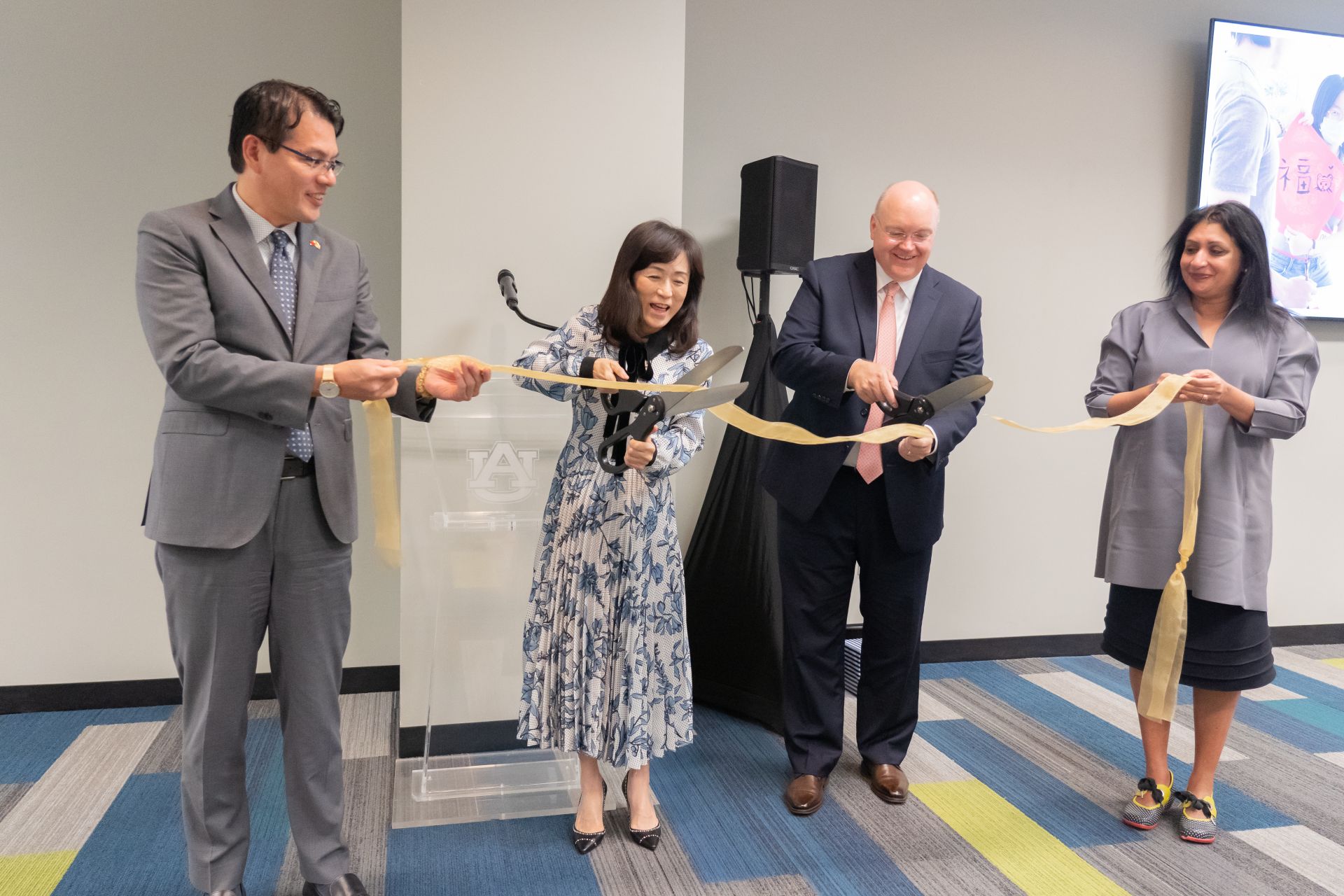 Guests announcing the opening of AU-NCKU Taiwan Center of Chinese Language and Culture Director at the ribbon-cutting ceremony.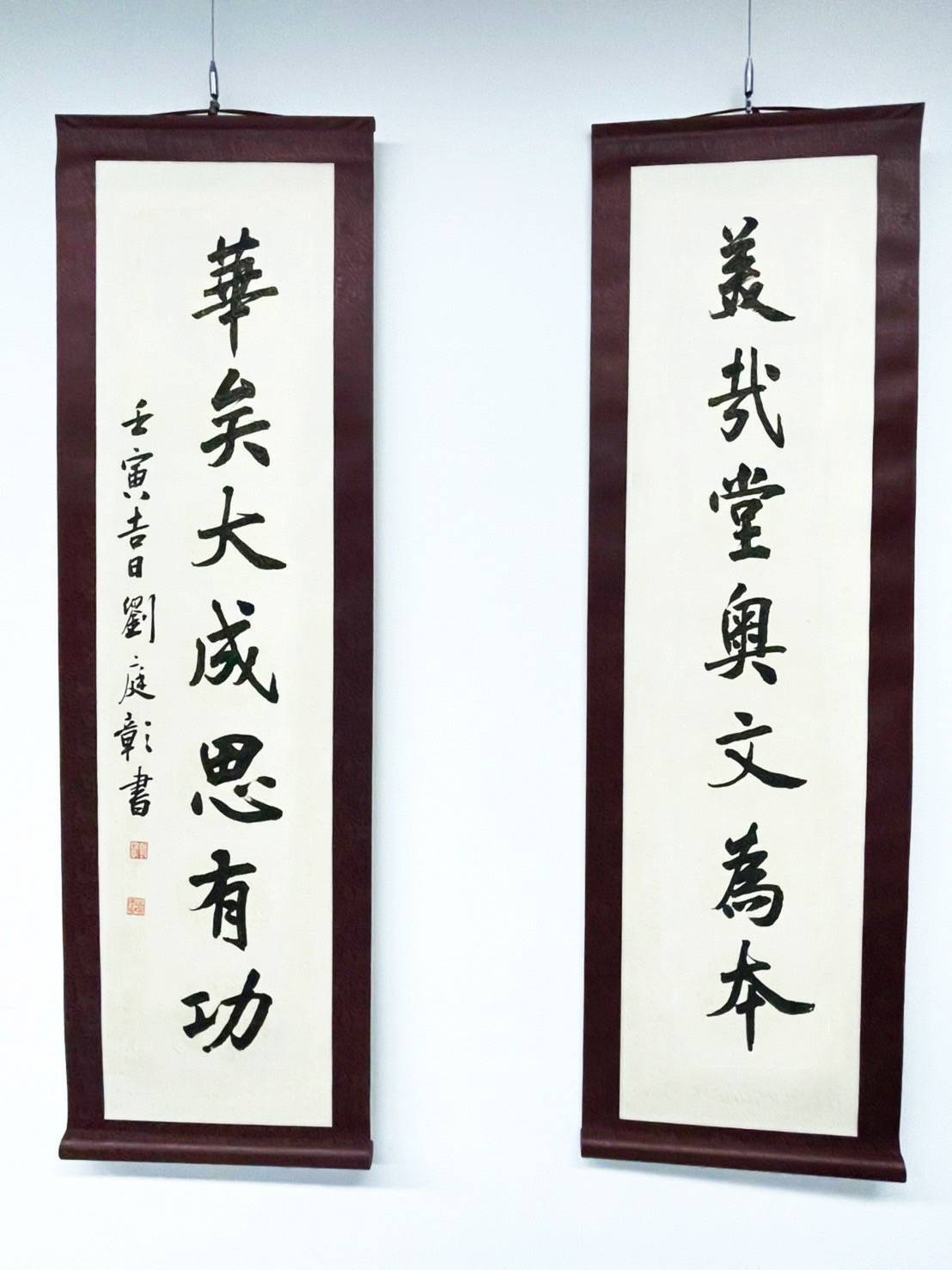 NCKU gifts AU a Chinese couplet celebrating the opening of the AU-NCKU Taiwan Center of Chinese Language and Culture Director.
The couplet incorporates the two university's names in Chinese.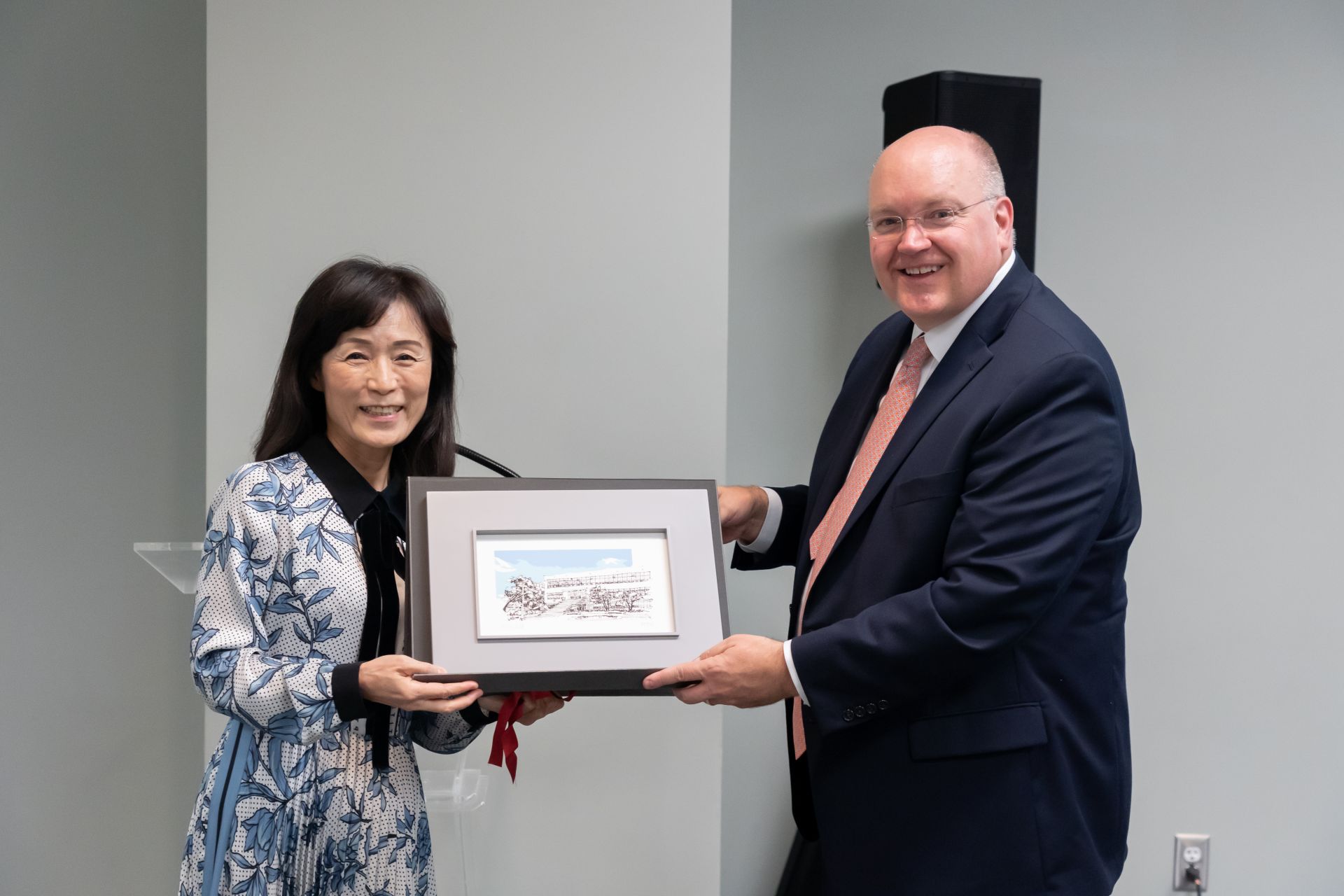 NCKU President Huey-Jen Su presents a print of the NCKU Future Venue as a gift to AU President Christopher B. Roberts, celebrating the friendship between the two universities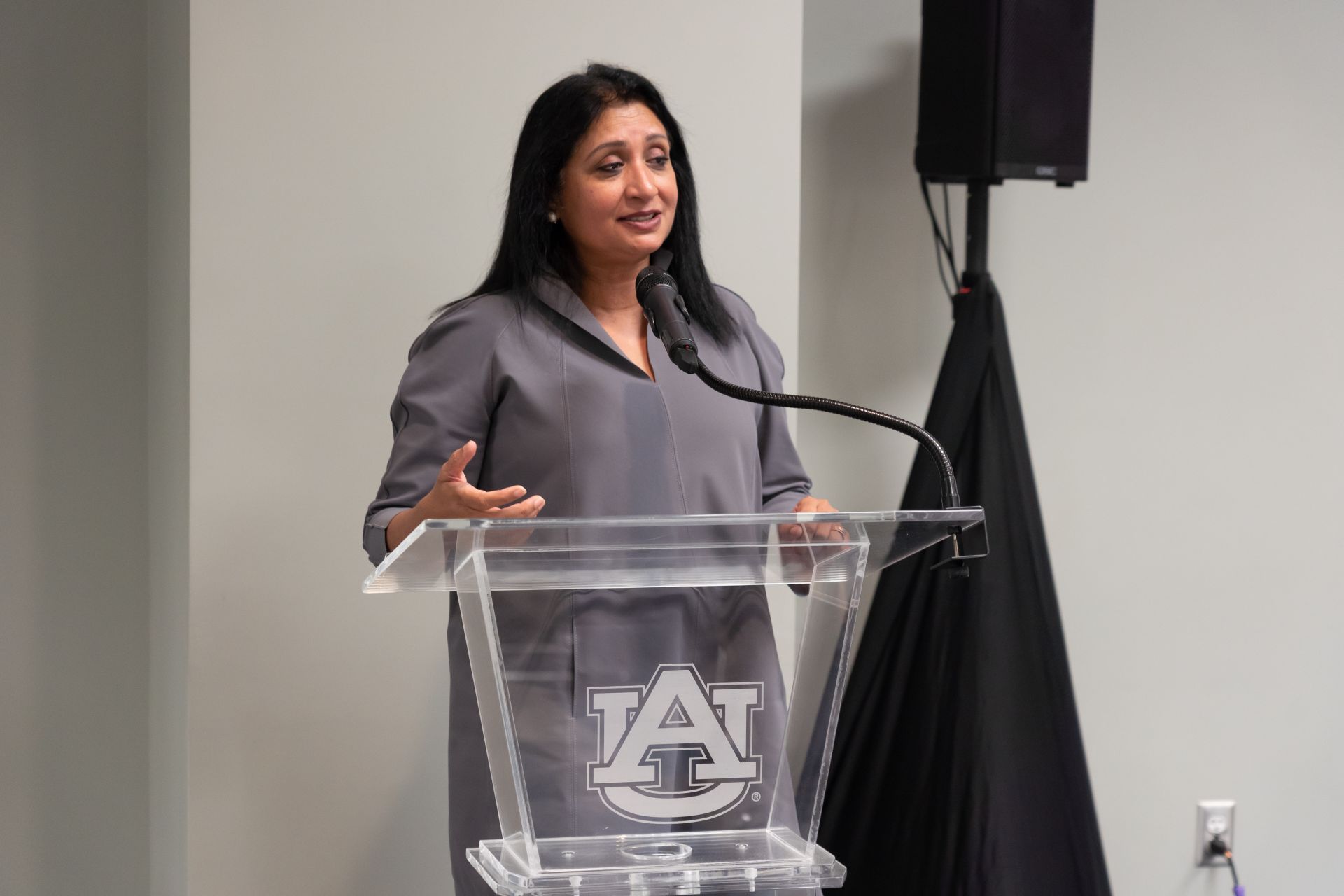 AU Vice President Vini Nathan expressed that NCKU is the perfect partner.