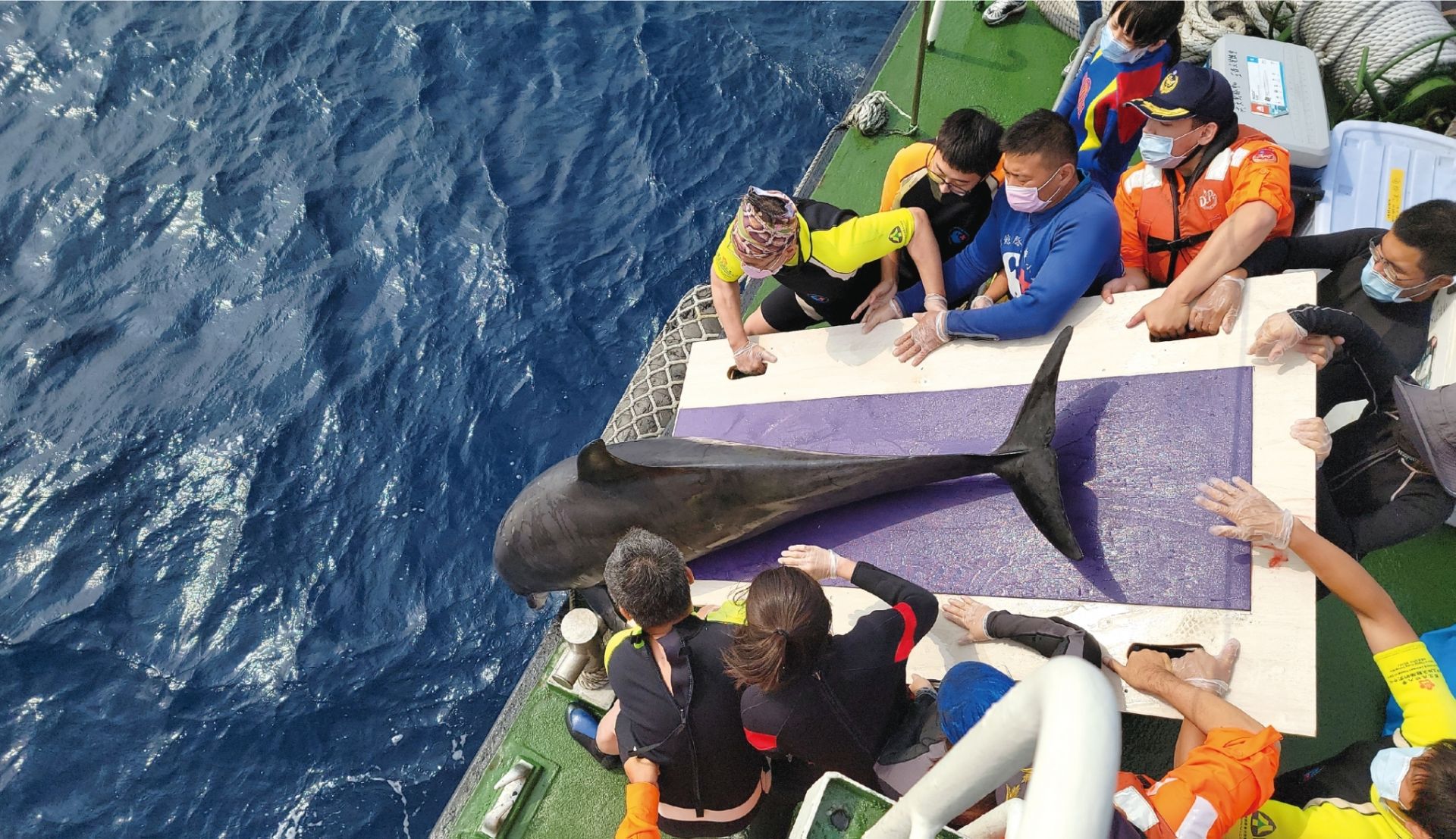 Enhancing Maritime Safety
Our researchers have developed the Taiwan Marine Environment Monitoring Service (TwMEMS), which integrates marine environmental parameters, including wind, wave, tide, current, and temperature components, from in-situ and remote sensing observations, ship reports, and numerical models to support the safety of various marine-related activities in Taiwanese waters. This service platform is now in operation and has served more than 10 governmental institutions and numerous public members in Taiwan.
Dolphin Conservation from Fishers' Perspectives
The Chinese white dolphin is classified as Near Threatened (NT) in the Red List of Threatened Species published by the International Union for Conservation of Nature (IUCN). Our researchers have found that stakeholders have different perceptions of the fishers' attitude toward conservation and thought fishery-related law enforcement could be difficult. Most fishers considered temporary fishing closure as feasible for conservation.
Saving Cetaceans
Our Marine Biology & Cetacean Research Center (MB&CRC) was established to rescue, conserve, and conduct scientific research on marine life animals. The center works closely with the coastal villagers, volunteers, and government agencies to conserve the marine environment. As of today, the team has rescued over 90 live stranded cetaceans since 2000. Among them, nine cases were successfully released back into the ocean. The primary goal is always to release the stranded dolphin or whale after integral rescuing, medication, rehabilitation, and recovery.
Sustainable Shrimp
Aquaculture
Researchers at the International Centre for Scientific Development of Shrimp Aquaculture (ICDSA) are working on achieving a sustainable shrimp aquaculture industry. They have successfully developed and implemented control measures to minimize disease outbreaks; produced pathogen-resistant shrimp and systems that conserve energy and water.
Intelligent Fish Aquaculture
Researchers from the Department of Biotechnology and Bioindustry Sciences have spent more than three years developing a fully automatic and sustainable "Fish Breeding Intelligent Production System." The primary feature of the system is its complete automation in detecting the size of fish and water quality and producing appropriate feed, such as algae and food organisms. The system can save 60% of human resources and 40% of production costs and increase the breeding rate of seedlings by 10 times to a steady 3%-5% as compared to traditional breeding methods.
Marine Weather
Observations and
Forecasts
NCKU Coastal Ocean Monitoring Center (COMC) was established to assist the government in establishing the long-term and operational monitoring network. The center deploys moored buoys and installs automatic meteorological or oceanographic, such as tide stations, pile stations, and coastal weather stations that are primarily located in nearshore areas or in the deep ocean to provide real-time data for governmental agencies, such as Central Weather Bureau, Water Resources Agency and Tourist Bureau.
Example Courses:
LS7735
Cetacean Rescue & Rehabilitation
LS7530
Physiological Ecology of Marine and Estuary Environment
OTMA9500
Study on Legal Problems Out of the Fish-Breeding and Fishing