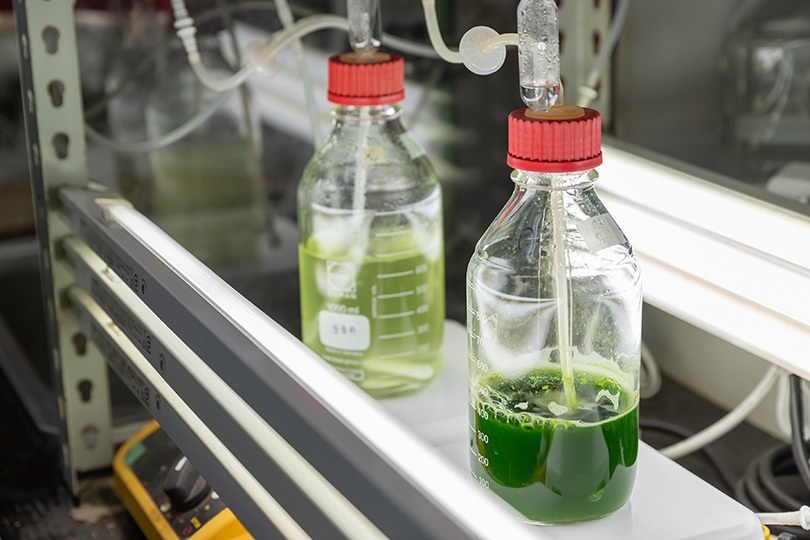 Drinking Water Treatment
Researchers from our Sustainable Environment Research Laboratory (SERL) have proposed a biological raw water pre-treatment process to remove ammonia and other pollutants from Dong-Gan river. They have demonstrated that the BioNET system was feasible for the biological pre-treatment of ammonia-contaminated drinking source water.
Algal-based Wastewater Treatment
Technologies
Algae have attracted attention as an excellent agent for pollution prevention and waste phytoremediation. Our researchers have found that algal-based wastewater treatment technologies, high-rate algal ponds (HRAPs), and algal turf scrubber (ATS) showed economic feasibility and sustainability for wastewater treatment in pilot-scale and full-scale applications.
Research Center for Water Science and Technology
This is an interdisciplinary research center with researchers from several departments working together. The center works on the phenomenon of natural water flow, water and ocean energy, water environment conservation, water resources utilization, and disaster prevention.
Rainwater Reuse
We have an efficient rainwater storage system, and the stored water is used for gardening, flushing toilets, and supplementing Cheng Kung Lake on the campus. From August 2016 to August 2021, 32,360 cubic meters of water have been processed through the rainwater reuse system.
Free Drinking Water
We provide free drinking water for students, staff, and visitors through more than 250 water dispensers on the campus. Each building floor on our campus has at least one free drinking water dispenser providing hot, warm, and cold water for everyone.
Providing Wastewater and Sewage Treatment Training Course
We have ensured that environmental professionals are equipped with the latest knowledge and skills. We offer wastewater and sewage treatment training courses for all qualified individuals, covering all aspects of water and wastewater treatment operations, maintenance, and management.
Global Water Resource Governance Talent Training Camp
We hold the Global Water Governance Talent Training Camp every year and arrange many courses, lectures, experiments, and visits for high school (vocational) students so that students interested in water conservancy engineering or related disciplines can explore their interests. The workshop content includes lectures by professors, engineering graphics, hand-made experience, and a visit to Hydraulic Laboratory and Wusanto Reservoir.
Example Courses:
EV5001
Water Pollution Control
EV7029E
Water Quality Management
HOE3315
Water Resource Engineering
EV7012
Advanced Wastewater Treatment